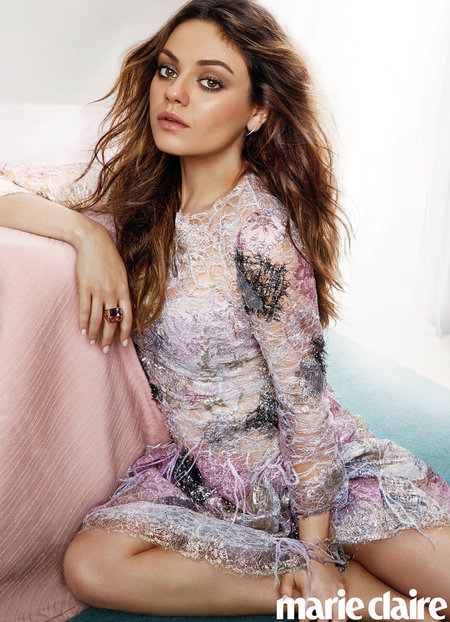 There are certain things you shouldn't
let your partner see
.
For Olivia Munn,
it's shaving your legs
, and for
Mila Kunis
, it's giving birth. More specifically, your vagina "being ripped apart and shredded".
The actress, who is currently pregnant with
fiancé Ashton Kutcher's
child, chatted to
marie claire
about her
pregnancy
and childbirth.
She revealed she wouldn't let
her future hubbie
anywhere near her nether regions, thank you very much: "He is staying above the action. He'll be head to head. Not head to vag. Unless he wants to risk his life and see. But I wouldn't if I were him. I highly doubt he wants to see that being ripped apart and shredded. Because it will be shredded. It's just a matter of how badly."
What a
colourful picture
you've painted there for us Mila. But it's not all bad, don't worry: "Without being an asshole, I have to say, I love being pregnant."
And Mila's favourite thing about being pregnant? Bigger boobs of course.
"They've tripled in size. I was a 34A; now I'm a 36C. I'm so excited! I'm telling everyone I know, 'Go ahead, touch them!'" We'll take that.
She also gushed about Ashton, admitting going
from friends to lovers
came naturally: "One day, it just changed. All of a sudden, it wasn't the same. And I was really proud of myself for acknowledging that. The best day of my life so far was the proposal. I cried. I was a mess. Not to discredit any relationships in my past, but this relationship is different."
Would you let your partner watch you give birth?
No way, there are things that can never be unseen
21.79%
Maybe, but only if the stays near my head
27.56%
Of course, it's a miracle and he should see every bit of it
50.64%
Share your thoughts with us
@handbagcom
Cute celebrity mums and their babies
MILA KUNIS STRUGGLES TO DRESS HER BABY BUMP
THE LATEST CELEBS WHO ARE EXPECTING
MORE CELEBRITY BABY NEWS