Scarlett Johansson has recently announced that her and fiancé Romain Dauriac are planning an August wedding. Scarlet also happens to be six months pregnant...
Planning a wedding
can be stressful at the best of times – let alone when your boobs have doubled in size and you can't see your feet – so it's a brave woman who goes ahead with the whole thing when she'd probably rather be in her dressing gown and watching a boxset.
But the good news is that WWP (Wedding While Pregnant) can be done with minimum stress for you and
your bump
. It's all about the planning...
Time it right
OK, so we know you might have already put down a deposit, or your venue of choice isn't free for another six months, but if possible, try to get married during your second trimester.
You'll hopefully have said goodbye to
morning sickness
and you won't have reached the 'I-have-to-pee-every-five-minutes' stage of the later weeks.
Decide if you want a church wedding
Some churches may be a bit funny about accommodating a pregnant bride, but others are more laid back - just make sure you and the priest are comfortable.
Talk to your family
It can sometimes be hard to predict how your family – especially older members – will react to the news that you're pregnant before getting married, so make sure to talk to them about it and explain why it's important to have their support.
Deal with the white dress issue
Forget the whole 'white is for virgins' thing – today, a
white dress
is more likely to be seen as a traditional wedding colour. Wear it or whatever colour you want - it's your big day.
Reassess your dress expectations
While you may not look exactly as you'd always pictured yourself on your wedding day, the important thing is that you have a dress that
flatters your new shape
and makes you feel great.
Avoid tightly-laced bodices and figure-hugging styles, and opt for empire line, princess line or A-line dresses. Light fabrics will keep you cool. Accent your bust if you want to avoid attention on your bump.
Find some cute flats
Wedding shoes are overrated anyway - when was the last time you saw one of your friends re-wearing her white wedding courts?
Go for comfortable flats that will allow you to stand for a good period of time without exhausting you. As for your shoe size, opt for a half or even a full-size bigger than your usual size, as pregnancy can make your feet and ankles swell.
Get a fake ring
Did we mention the swelling? Your fingers are likely to swell, which can make it complicated if you want your ring to still fit your finger after you give birth. Consider using a mock
wedding ring
for the wedding ceremony and then wearing your real wedding ring once your fingers are back to their usual size.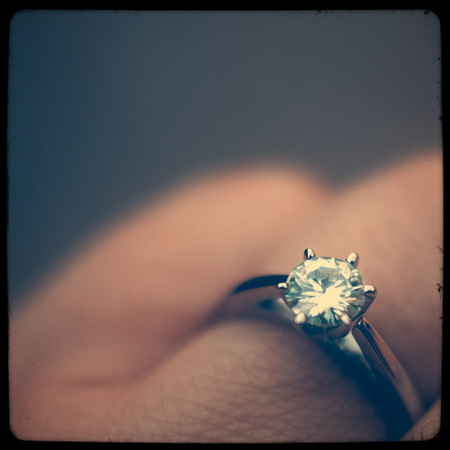 Call the caterer
It's important to keep your blood sugar up throughout the day, so don't forget to eat (and stick to
sparkling water
rather than booze too).
A few things that are normally served at a wedding will now be off-limits to you, including seafood, shellfish and some cheese, so look for alternatives.
Plan a relaxing honeymoon
Choose a place that's easy to get to (long-haul flights may be out of the equation after you pass 28 weeks) and
somewhere you can relax.
Get travel insurance that covers any pregnancy complications (or even giving birth) and find out where local hospitals are in case of an emergency.
Enjoy it
Once you've reached the big day, your biggest obstacle will be dealing with
pregnancy fatigue.
Make sure there are strategic chairs for when you need to sit down, plenty of water and easy bathroom access. And don't hide from the camera. You'll want a keepsake of this special day - for yourself and to share with the new addition to your family.
MODERN WEDDING HAIR IDEAS
Would you get married when pregnant? Tweet us
@handbagcom
.
THE OLSEN TWINS REVEAL FIRST WEDDING DRESSES
HOW TO HAVE AN ECO FRIENDLY WEDDING
10 WEDDING TRADITIONS WE WANT TO BAN