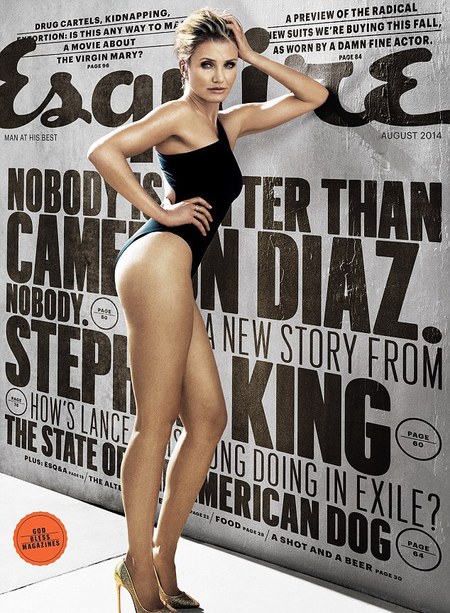 Cameron Diaz
is on the cover of
Esquire
magazine looking amazing in a black swimsuit. Well of course she does, because
Diaz decided not to have a baby
, right, right?
The 41-year-old actress has
given another interview
where yet again the focus is about why such an attractive and successful actress is pretty fine with the fact she
chose not to have children.
"It's so much more work to have children. To have lives besides your own that you are responsible for - I didn't take that on," Diaz told the magazine.
"Not having a baby might really make things easier, but that doesn't make it an easy decision. I like protecting people, but I was never drawn to being a mother."
But the internet has gotten weird about the whole thing.
People
Magazine even ran a poll to to see if Diaz was selfish or selfless in her choices:
"Let's keep asking her about kids til she's 50" RT @HMeegs @STFUParents have you seen this?! http://t.co/H4KMdvQ8ya … pic.twitter.com/KtdL37mcf3

— STFU, Parents (@STFUParents) July 3, 2014
That's it, we're going back to bed. Wake us up when the world gets less annoying.
Thoughts? Tweet us
@handbagcom
CAMERON DIAZ TALKS VAGINAS AGAIN
NO BUT SERIOUSLY, WHEN SHOULD YOU HAVE A BABY?
MORE CELEB NEWS