It seems we can't open a paper or login to our emails these days without another update of the
Simon Cowell
baby madness. Not that we're complaining - this is interesting stuff.
The latest instalment to the saga - in which Simon got his best friend's girl, Lauren Silverman, preggers and is allegedly planning to marry her (after she's divorced hubby Andrew, of course) – is that the pair are expecting a bouncing baby BOY.
Cute.
First-time-dad Simon is said to be "over the moon" at the thought of a mini-me to dress up in his trademark high-wasted jeans and chest-bearing shirts.
As a little treat for Simon Cowell fans, we collated thousands of pictures of mum and dad to be, calculated some Einstein-esque mathematical code and put it in a special baby generating computer to give us an an accurate portrayal of what baby Cowell could look like. Tada!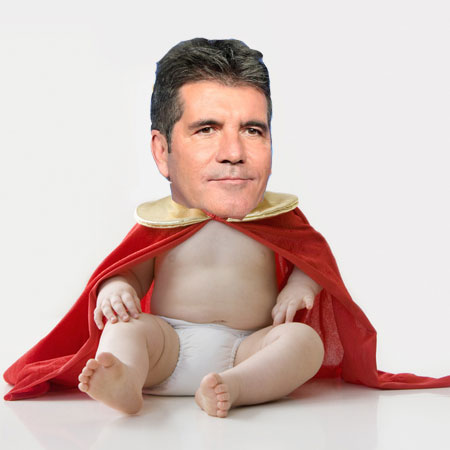 SIMON COWELL TO WED PREGNANT LAUREN SILVERMAN SOON?
SIMON COWELL DUMPED MARRIED LOVER BEFORE BABY NEWS?
SIMON COWELL IS 'FREAKED OUT' BY BABY NEWS