Stacy Kiebler
seems to have had a pretty good pregnancy so far and she's explained that it's due to
good exercise
and diet choices.
Her
Pilates instructor
, Nonna Gleyzer, shared her fitness secrets with
People
:
'"We just do less repetitions and less moves on her back. We're keeping the muscles strong and long. And we do lower abs and
deep breathing
which will
help with the birth
!'
So, how is Stacy feeling?
'I haven't had one day where I've been sick or tired. I've had
so much energy
, but I'm very conscious of making sure I work out every day and
eating healthy
, so I really, truly believe that's a big part of it," said Stacy.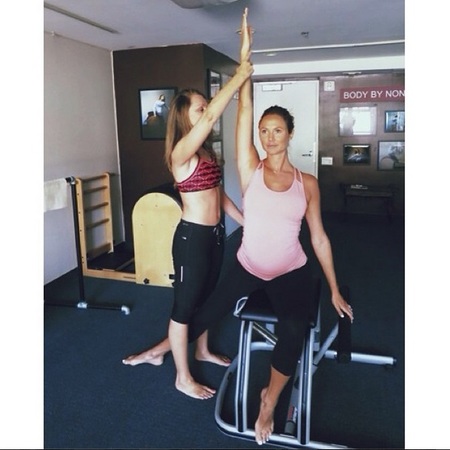 She also shared
an Instagram snap
last week which was captioned:
"Stretching your obliques is key during pregnancy. I devote at least 15 minutes each day
to stretching
! #fitpregnancy #pregnancytip."
And
her diet secrets
?
"I try to be as organic as possible, especially with food. I not only try to
eat organic
, but no preservatives, nothing artificial."
Hope you're noting this down
mums-to-be
...
Do you have any suggestions to add? Tweet us
@handbagcom
Celebrity mums who lost baby weight the healthy way
MILA KUNIS STRUGGLES TO DRESS HER BABY BUMP
MORE PREGNANCY FITNESS NEWS
LOTS MORE ON HANDBAG.COM