Set to be the hottest lippy shade of the season,
tangerine pouts
popped up all over the
Fashion Week
runways, with even
Karl Lagerfeld
in favour of the look.
So how do you get it right? Here's a few tips from makeup artists at MAC Cosmetics.
How to wear orange lipstick by MAC
1.
If you want to wear bold colour but don't feel brave enough to wear it full powered, dab the lipstick on to your fingers and apply with your fingertips. Apply evenly and all over for a bold, yet understated look.
2.
For a more glossy look, apply a little MAC Lip Conditioner over the top or underneath.
3.
If you want to wear it full powered, apply the lipstick with a brush - it will stay on longer and look smoother. Liner will help if you are new to this!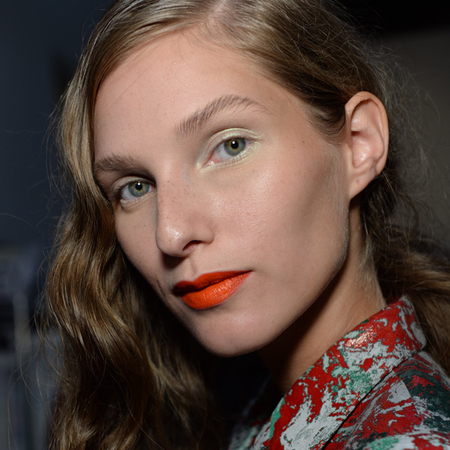 4.
Start by lining the Cupid's bow. Bold and especially matte colours enable you to 'cheat' the lip line and achieve perfectly symmetrical lips.
5.
Work from the middle section of your bottom lip, draw out from the Cupid's bow , into the centre of the lower lip and then to the corners of the mouth.
6.
Open your mouth and fill in the corners so you have a very clean professional finish. Then, fill in with lipstick using your brush.
7.
To check symmetry, look in the mirror and tilt your head back. Mistakes will become apparent and you can rectify them.
8.
Practice this method a few times and eventually your lips should look flawless and totally proportioned.
9.
To help the colour pop more or to help give you a perfect edge if you didn't manage it, take a little of your concealer and using an angled brush, such as the MAC 266, very carefully outline the lip with this. To be sure you don't leave a visible line of concealer, blend outwards.
10 best orange lipsticks
What do you think? Tweet us
@handbagcom
THE NEW WAY TO WEAR STATEMENT LIPSTICK
EASY BEAUTY TRENDS TO TRY IN 2014
MORE BEAUTY NEWS AND TRENDS