Waxing can still be a tricky hair removal business, long after you've come to terms with pushing your pain threshold. So we've decided to demystify the whole thing for you right here, right now.
From when to take your pants off, to what they really mean by a Brazilian or Hollywood, let's call this a 101 in the world of waxing.
Strip, soft, hot or hard wax? What's the difference?
When it comes to the actual wax being used, you have options these days. Soft wax, also know as strip wax, is the type most people are familiar with and is removed with strips of thin paper or muslin. Hot or hard wax is more commonly used on bikini lines, and is spread thickly over the hair, left to harden a little, before being pulled straight off. While soft wax tends to be better for larger areas, hard/hot wax can be less painful.
How to prepare for waxing
So long as your hair is at least 1mm long, that's about all you need to take care of. It can help to exfoliate the day before your wax, and avoid using astringent products like toners, which can make your pores tighter.
How much does waxing hurt?
Your hair is being pulled out from the root, so yes, it will hurt a little. A positive mental attitude (PMA if you will) should help though. The pain of each pull really will stop immediately after the hair is out, though soreness, redness and a mild sting can linger for a short time afterwards. If you go into your wax ready to grin through the pain, you'll make it out hair free and happy. Once you're a waxing regular, hair will become weaker, growth will slow and it'll all hurt far less. We promise.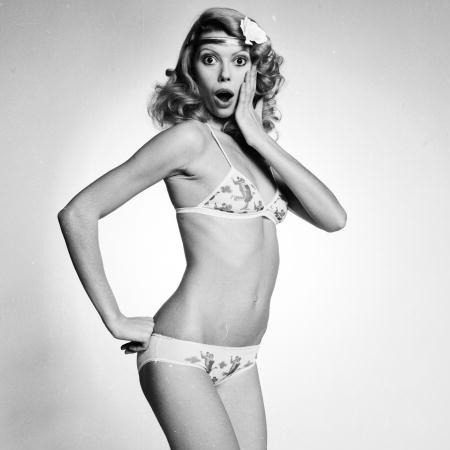 Waxing shapes and styles explained
Here's where it gets interesting, experimental and probably endless.
Regular Bikini Line wax
- Hair is removed from the sides and sometimes the top of your pubic line, where it creeps out of your most basic pants. You can keep your undies on for this one.
Full Bikini Line wax
- Same as the regular but you can go a little further in with this one, for specific shaping. Great if you plan on wearing high-leg bikini bottoms for example. Again it can easily be done with your pants on.
Brazilian wax
- Everything comes off leaving you hair free from front to back, bar a decorative strip. You'll have to whip your pants off for this one, and may be asked to bend your legs outwards or raise your knees to your face so the waxer can get to the bottom of things. Literally.
French wax
- This stops just short of the Brazilian in the derriére department, leaving you hair free apart from a strip at the front and your, erm, bum fluff.
Hollywood wax
- Same as the Brazilian minus the strip of hair. You will be absolutely 100% bald down there, so make sure it's what you want! Again, the pants are off for this one.
Bollywood wax
- This is an all-off Hollywood wax finished with a decorative bindi, vajazzle design or henna pattern.
Chelsea Diamond wax
- Created by the
Strip Wax Bar
, this wax removes everything from sides, underneath and bottom, leaving a diamond shaped patch of hair at the front.
City Martini wax
- Another creation from the Strip Wax Bar, this wax removes everything from the sides, underneath and bottom area, while your hair at the front is shaped to resemble a Martini glass. Cheers!
Notting Hill Boho wax
- The Strip Wax Bar remove everything from underneath and your bottom area, leaving you with natural and fuller hair on top.
Waxing aftercare
Depending on how regularly you wax, it's likely you'll feel sensitive or a little red or swollen. If your hair is particularly tough, you may even have a few tiny spots of blood immediately after.
Don't panic, this is normal and any redness should calm down after a few hours. Avoid very warm water - no steamy showers - for the next 24 hours, along with swimming, strong products or scrubs, and exposure to direct sunlight.
So what do you think? Bollywoods for everyone? Tweet us your waxing preferences
@handbagcom
!
BEAUTY 999: HOW TO HANDLE INGROWN HAIRS
WE REALLY NEED TO TALK ABOUT PUBIC HAIR
MORE BEAUTY NEWS, TIPS AND TRENDS