Millie Mackintosh is feeling the change of seasons and has opted for a sultry burgundy shellac manicure to mark the beginning of Autumn 2013.
The Instagram favourite posted a picture of her new nails to the site with the caption, "Autumn nails at last! #colourcoordinated #shellac #masquerade".
The recent bride also showed off her sparkling wedding rings, which we're thinking go with everything.
True to her Chelsea roots, Millie made sure to match her mani to her classic quilted Chanel bag and her purple skirt.
She may not be in the show any more but this girl's still
Made In Chelsea
.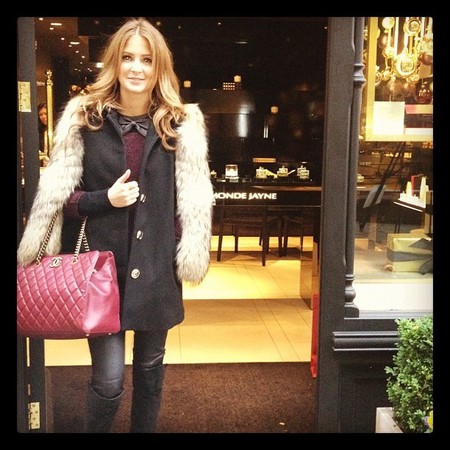 We're going to miss Millie's oh-so-stylish appearances on MIC, even if they were rather quiet and pointless.
Thank god for Instagram!
HONESTLY, DO YOU LIKE MILLIE MACKINTOSH'S NEW FRINGE?
MILLIE MACKINTOSH LOVES PINK ESSIE NAIL SHADE
MILLIE MACKINTOSH'S STATEMENT JACKET