If there's ever a time to get on board with a
new hair trend
, it most definitely is when
Rosie Huntington-Whiteley
adopts it.
The model decided to take inspiration from
the 80s
with crimped hair.
If you want to try the crimped hair trend without looking like you're going to
a fancy dress party
, follow these tips by hair guru
Charles Worthington
.
And the beauty of it is you don't even need a set of crimpers, just a metal-tail comb and hair straighteners will do the trick.
Step 1
- Pull hair back into a
sleek ponytail
or classic chignon, leaving the fringe or front section of the hair down. Nothing fancy, the front part of your hair should do all the talking!
Step 2
- Next, take a small 1cm wide section of hair and, using a fine toothed pin tail hair comb, comb then spray the section of hair with some maximum hold hairspray.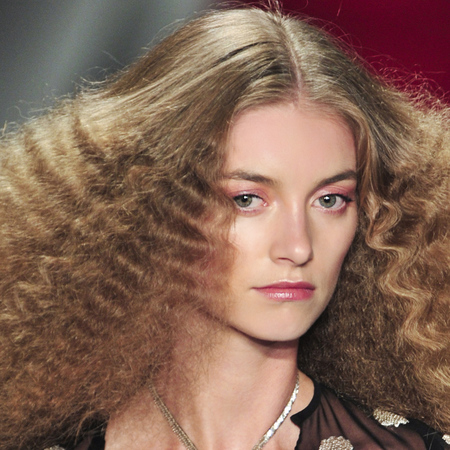 Step 3
- Twist the hair using
your fingertips
, then wind tightly around the pin section of the comb, creating a spiral.
Step 4
- Set the hair by clamping a pre-heated flat straightening iron over the hair that is twisted over the comb, holding in place for no more than five seconds. Then release and remove the comb from inside the
twisted strand of hair
. You should end up with a fabulous, tightly crimped coil of hair.
Step 5
- Repeat section by section over entire
fringe
, and allow to cool.
Step 6
- Finally, untwist the hair and separate the curl - your hair will literally spring into life.
Step 7
- Simply style as you wish. Spray up with some more hairspray for a show-stopping finish or slick to one side for a more
sleek, demure look
. Either way, get out there and have a (disco)ball!
For more hair wisdom from Charles Worthington, visit
Charlesworthington.com
EMERGENCY RAINY HAIR SURVIVAL KIT AND TIPS
THE TOP 10 BEAUTY RULES FOR LIFE
MORE HAIR TIPS & TRENDS