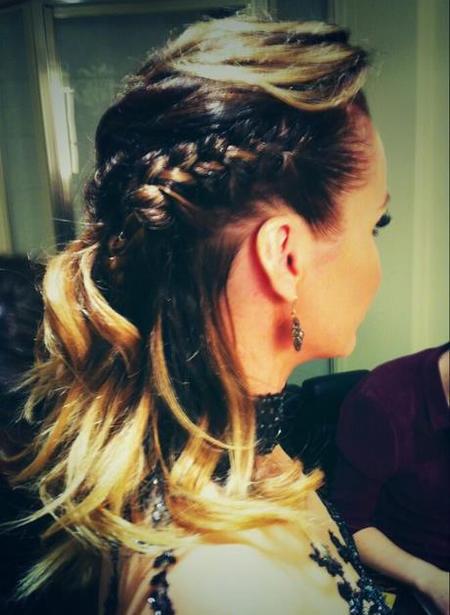 Amanda Holden
's hair has been impressive as ever during the glam semi-final stages of this year's
Britain's Got Talent
.
So we've asked her very own hairdresser Ben Cooke of London's
Lockonego salon
, just how we can get that high volume braided 'do ourselves.
His advice? Follow this step-by-step to get your Holden well and truly on...
STEP 1:
This style works best on unwashed hair that has a little body and texture to it. Start off by using curling tongs to curl inch wide sections of hair all around the head. Then run your fingers through the curls to loosen them, creating more of a tousled, wavy look.
STEP 2:
Next, take a section at the front of the hair and backcomb for volume, then use a fine tooth comb to smooth it back off the face spraying in to place.
STEP 3:
To create the side French plait, take a small section of hair on the side of your head and split into three sections. Cross the left hand piece over the middle then the right hand over the middle, remembering to add a new section of hair each time you cross the hair over to give the French Plait look.
STEP 4:
Once you've plaited all the way down to the ends tie off with a clear plastic band and pin underneath the curled hair on the opposite side of your head.
STEP 5:
Finish off with a mist of Sebastian Shaper Zero Gravity Hairspray to keep the hair off the face and in place.
What do you think? Giving this a go come the weekend?
HAIR TREND: PLAITS AND BRAIDS FOR SUMMER...
HAIRSTYLE HOW TO: CHERYL COLE'S FISHTAIL PLAIT
SUMMER HAIR: KIM KARDASHIAN'S GLAM TOUSLED WAVES
HAIR TREND: PLAITS AND BRAIDS FOR SUMMER