Whether you've used
sun protection on your hair
or not, hours in the heat plus sea salt, swimming pool chlorine and colouring (be it naturally sun-kissed or otherwise) can leave it dry, damaged and in need of post-holiday hair rehab.
Remember those Aussie 3 Minute Miracle Deep Treatments? This is what they were born for!
Aussie Hair expert Liz Taw explains, "After your summer holiday applying a deep conditioning treatment like the Aussie 3 Minute Miracle Frizz Remedy Deep Treatment twice a week for a few weeks in a row can really rescue it.
"My top tip is to try letting your hair dry naturally after washing it too, or use a diffuser to bring out natural movement if you really need to apply heat styling."
So how does it work? All pretty self-explanatory really.
Shampoo your hair as normal, using a nourishing shampoo will obviously help, rinse it out, then smooth the 3 Minute Miracle Deep Treatment over your hair paying special attention to the ends.
Leave it for, yep, 3 minutes, then rinse off. You can even finish off with a dose of regular Aussie conditioner if you're really going hard on the moisture boost, or spray on a leave-in conditioning spray once you're done.
With six variations of the classic formulation (Shine, Take The Heat, Reconstructor, Frizz Remedy, Luscious Long and Colour), we're pretty sure you'll find one to suit...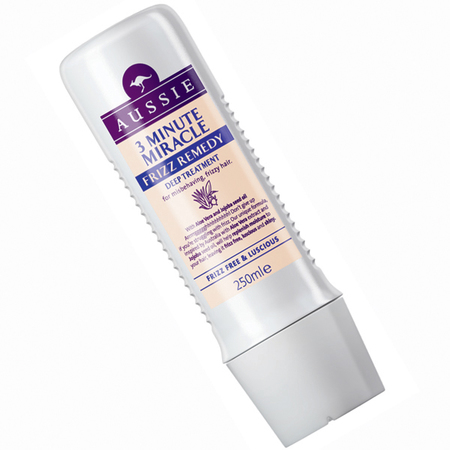 What do you think? Fancy an Aussie sesh?
HOW TO CARE FOR COLOURED HAIR IN THE SUN
SORRY BLONDES, BRUNETTES ARE BETTER IN BED
WANT SKIN LIKE MIRANDA KERR? HERE'S THE ROUTINE.