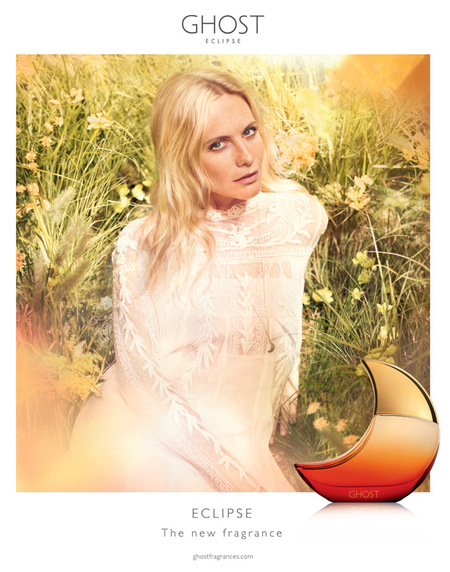 British model and It girl
Poppy Delevingne
is the face of the brand new GHOST perfume Eclipse, so we caught up with her to chat about what it smells like,
her beauty secrets
and sisterly stealing.
So the new GHOST scent – what does it smell like?
It's very feminine and fruity. It's got lots of mandarin and orange, but it's got an amber, musky tone, which is what I really love about it. It's feminine and floral and it sort of reminds me of sunshiny days and long afternoons on the beach, Ibiza afternoons, running through meadows, that kind of thing. It's very summery and playful.
If you had to describe GHOST Eclipse as an outfit...?
A pair of denim cut-off shorts, maybe a white lace shirt, kind of hippy, definitely with a garland of flowers around my head and some gladiator sandals.
Where does perfume rank on your beauty priority list?
It's actually very high up. For me, perfume is something that really stands out. It makes a person and really resonates with me. When I meet someone and I smell them, I always remember that smell. Friends always laugh at me when I haven't seen them in a while and I hug them and go, 'Oh, you smell like you.'
Talk us through your skincare. Any tips or essential products?
I use
Liz Earle Cleanse and Polish
and when I'm feeling a bit dehydrated,
Sisley have come up with a great hydration mask
I put on, that you don't have to remove. You can leave it on under your moisturiser so it's really easy and quick. I
moisturise with La Prairie
at the moment and
tone with Liz Earle
.
I use an
MV organics rose hydrating mist
which I love too. If it's a long day and you're working flat-out, then meeting friends or whatever, it's nice as a little pick me up.
I change up my skincare regime quite a lot because I think it's good for you to do that. My skin really reacts to the switch - it sort of keeps it from being dull. I never want to let my skin get used to something, in case I'm stuck in the middle of nowhere and run out!
You travel a lot, any tips for packing light while still looking good?
One pair of great heels and really comfortable flats. Stick to the basics:
one pair of jeans
, a good t-shirt,
a leather jacket
,
a great lipstick
, one statement piece of jewellery, so you can change up what you've been wearing all day to make it sort of feel a bit different. A great fragrance too, that's always going to make you feel refreshed and beautiful.
You have sisters - is there much stealing of makeup or clothes?
There's little bits.
I always steal Cara's tweezers
and she always steals all my makeup. She's very low maintenance actually. We're both kind of low maintenance.
I'm definitely more of the beauty junkie though
, I have to say. It's more clothes than makeup we steal and it's the other way round on that. I steal everything of hers!
GHOST Eclipse will be available exclusively at
Superdrug
and
The Perfume Shop
from 7th May and available nationwide from 1st July at
Boots
,
Debenhams
and
The Fragrance Shop
, starting at £25 for 30ml.
Feel like smelling as summery as Poppy? Tweet us
@handbagcom
CARA DELEVINGNE & SISTER POPPY PARTY ANIMAL STYLE WITH THE ROYALS
CELEBRITY SKINCARE SECRETS
MORE BEAUTY NEWS, TIPS AND TRENDS
LOTS MORE ON HANDBAG.COM