Leighton Denny, manicure guru, has tended to the talons of
Dita Von Teese
and
Kate Moss
. Here he spills his expert tips on how to file, buff and polish your way to the perfect manicure at home.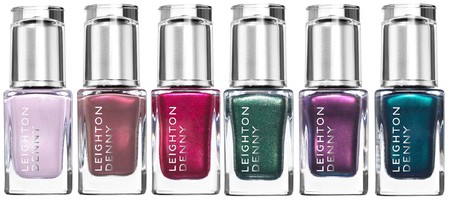 Filing your nails the right way:
Upgrade your standard emery board to a crystal file - dubbed the Rolls Royce of nail files, but not to be confused with glass nail files. They seal the nail edge as they work, meaning no splitting or catching to the nail.
If you're using a conventional file, always sweep from side to centre - only crystal files can be used back and forth.
A crystal file is also the longest lasting nail file - in fact, Leighton Denny's has a 25-year guarantee.
Try: Leighton Denny Crystal File Set, £28,
www.leightondenny.com
How to buff your nails:
Buffing the nail is like exfoliating the skin - but only buff occasionally as over-buffing can thin the nail.
Buffing stimulates circulation in the nail through the heat it creates; it also smooths out ridges and helps to remove stains.
A buffer has three sides - 1, 2 and 3. Use all three sides when using for the first time and then just sides 2 and 3 to bring back the shine every few days. Only use side 1 on new nail growth.
Care for your cuticles:
Don't cut cuticles! Cuticles protect new nail growth and damaging them can cause bacteria entering the nail and infecting it.
To tidy cuticles, use cuticle cream with exfoliating AHAs, which gently remove excess skin and moisturise at same time.
Removing nail colour:
To avoid that nasty post-polish stain, follow this simple way to remove coloured nail varnish:
Take a fluff-free cotton pad with nail varnish remover and hold down, pressing lightly on the nail for a few seconds. Allow the remover to soften the polish and then wipe away from the cuticle to the tip. Repeat again if necessary.
Never rub nail polish remover back and forth into the nail as this will only cause the polish to stain.
Try: Bourjois Magic Nail Polish Remover, £4.99,
www.boots.com
- simply dip fingers into the pot which holds a remover-soaked foam, twist fingers back and forth against the foam until polish is removed.
New nail polish colours!:
The Temptation collection is the latest palette for Autumn-Winter 2013. A set of modern metallics in catwalk-inspired shades such as deep burgundy, rich purple and vibrant jade and exactly what you need to get your mitts on this season.
Try: £11 each,
www.leightondennyexpertnails.com
SEE MILLIE MACKINTOSH'S AUTUMN MANICURE
SEE MANICURIST SOPHIE ROBSON'S CATWALK NAIL ART
GET THE LATEST NAIL TRENDS