Rihanna
was at the iHeartRadio Music Awards last night and we just have to talk about her hair and makeup.
OK, so the
see-through black lace dress
and old-school
Madonna
levels of accessories was a sight to behold, but really it was what was going on upstairs that caught our attention.
From the
Gwen Stefani style hair buns
to the dark green lipstick, we'd like to call a moratorium on
90s beauty trends
- just for a minute.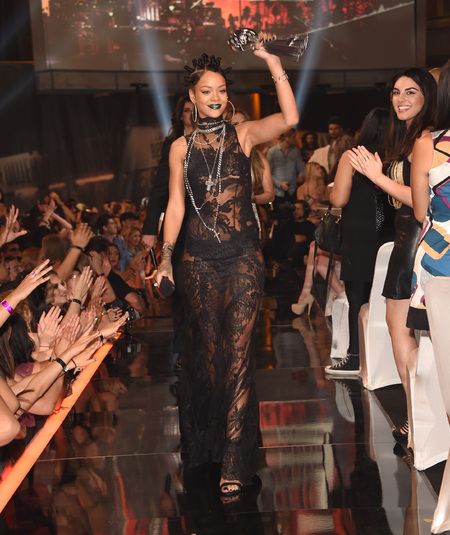 We reckon she could be sporting the
D&G
jewel collection green lippy, but designer or not, we're stuggling to get on board.
Equally any hairstyle in which your scalp is the main event is something we'll give a miss.
Maybe she was just trying to find
an inch of skin we hadn't seen yet?
Either way, looks like this make us almost glad that the
Met Gala Ball is likely to be a bit boring and tame this year.
Celebs embrace 90s fashion
What do you make of the look? Tweet us
@handbagcom
RIHANNA MAKES ANOTHER STYLE STATEMENT
90S MAKE-UP TRENDS ARE BACK AGAIN
MORE CELEBRITY BEAUTY NEWS