From
Madonna's armpit hair selfie
to the now pulled Veet 'don't risk dudeness' adverts, worthy or not,
female body hair is officially a news topic
.
So how do other women feel about hairy armpits? How do men really view womens' body hair? Lingerie brand
Soft Paris
launched a survey to find out.
Has Madonna's armpit selfie changed anyone's attitude to hair removal?
A whopping 90% of the respondents, men and women aged between 18 and 59, said no. Sorry Madge.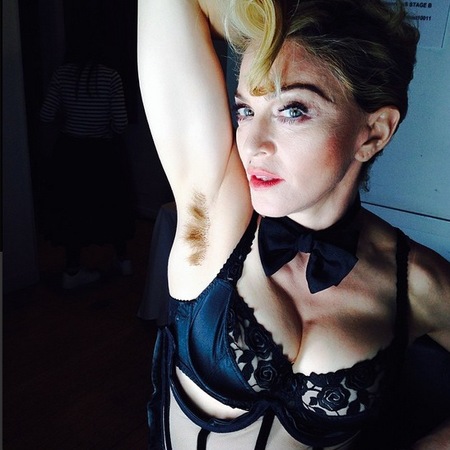 Why do women keep up with regular hair removal?
Though
the hair removal debate often wanders into gender inequality territory
, 90% of women said they see hair removal as their 'personal choice'. In answer to another question, 80% of women said hair removal makes them 'feel good', while 83% of the female respondents considered hair removal to be 'essential'.
Would you ever grow your body hair?
It seems armpit hair is seen as far less acceptable than
overgrown pubic hair
, with 96% of women saying they'd never grow hair under their arms, compared with 88% who were against growing out the lady garden.
Is hair removal the more hygienic option?
Though there's conflicting evidence on whether hair removal is more hygienic, 79% of women said they did shave and wax for hygiene reasons. Although 54% do still worry about the consequences, such as
ingrown hairs
, infections and lesions.
Do men find female body hair sexy?
Sorry ladies, but it is as expected. Just 1 in 20 men said they find body hair sexy.
What do you make of the survey findings? How do you feel about the hair removal debate? Tweet us
@handbagcom
MADONNA'S HAIRY ARMPITS. DISCUSS.
IS YOUR PUBIC HAIR A FEMINIST ISSUE?
MORE BEAUTY NEWS, TIPS AND TRENDS