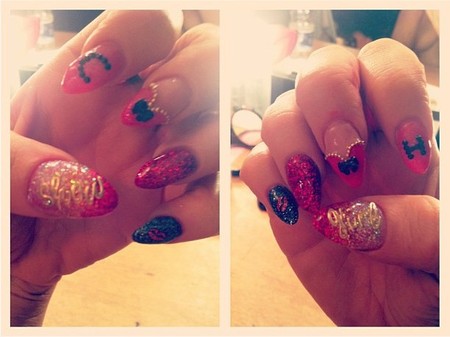 Kelly Brook
has given us another glimpse at her showgirl style with some rather fancy nail art.
Embracing cabaret beauty for her stint with French dance production Crazy Horse, Kelly has been busy sharing sneak peeks of her stage looks.
Her latest tweet shows some super glitzy nails, embellished with beads, bows and glitter.
The red, black and gold colour theme suits her raunchy cabaret costumes perfectly.
What do you think? Like the look of Kelly's showgirls nails?
Share your comments below...
HAIRSPIRATION: ELLA HENDERSON'S VINTAGE STYLE
BEAUTY BAG: DITA VON TEESE SIGNATURE FRAGRANCE
FREE L'OREAL ANTI-AGEING BB CREAM SAMPLE