If you fell in love with the spring/summer prints that flooded the Paris Couture Fashion Week runway, get excited.
You can now wear them on your nails for just £5.99!
Inspired by the gorgeous florals seen at the Christian Dior and Chanel shows, nail lovers at Woo Woo have created new sets of nail wraps featuring the exact catwalk prints.
Using clever computer software, Woo Woo even has the power to grant you any nail wrap you wish.
All you need to do is
log on to the site
, upload a photo of the print you're obsessed with and that really is about it. Just sit back and wait for those fashionable foils to come straight to you.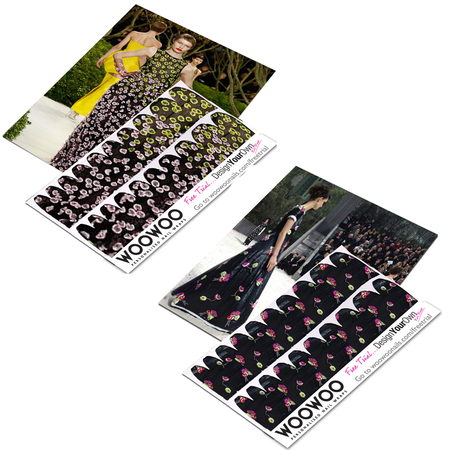 What do you think? Will you be having a play with Woo Woo nails?
Leave a comment below to
be in with a chance of winning a £100 goodie bag
NAIL ART: CELEBRITIES ROCKING BOLD AND BEAUTIFUL NAIL DESIGNS
FASHION WEEK: BEST OF THE RUNWAY AT PARIS HAUTE COUTURE
SPRING/SUMMER: STELLA MCCARTNEY'S SHEER GLOW BY MAX FACTOR