So Caroline, you've swapped and switched your hair colour a lot, but are you happiest blonde or brunette?
What makes me happiest is being able to experiment with my hair. I like to change the colour regularly, sometimes even weekly, which is why I've loved using
Regis Salons
. I've been able to change my colour regularly but in such a way that it is still in great condition. It's nice to try out new styles and colours but as long as your hair is looking healthy you'll always feel more confident.
You've become somewhat synonymous with the dip-dye/ombre look...
I'm a brunette right now, but I loved the dip-dye. You get the best of both worlds. The style initially started out after I left my roots to grow out before a holiday. Being in the sun then made the ends go lighter and people were complimenting the look, so I kept it.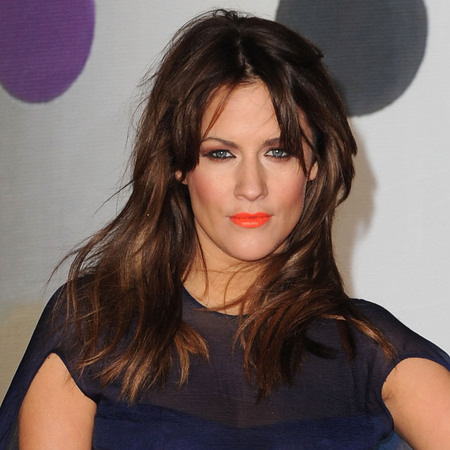 When it comes to hair care, do you have a regime that you always stick too?
I'm a bit of a wash and go kind of girl. My hair is really easy to do and quite low maintenance. It only takes me about 20mins as all I do is wash it, dry it, tong it and then brush it before adding loads of hairspray. Then I choose an outfit, apply some lipstick and I'm out the door.
What are you washing your locks with at the moment?
Regis Salons introduced a new range last year, just as I started working with them, which I love. It's a range designed to protect coloured hair. Designline Enchanted Midnight shampoo and conditioner is lovely as it keeps my colour looking vibrant for as long as possible.
When it comes to hair envy, whose locks do you crush over?
I love Kate Beckinsdale's hair. She always manages to have that amazing volume and completely groomed look, without looking like she's spent too much time on it.
A lot of people are opting for a new fringe at the moment, what made you go for it?
It was an impromptu decision while I was having my hair cut just before Christmas. I fancied a change and was channelling Farrah Fawcett and the whole retro 70s thing...
What do you think? Leave a comment below to
be in with a chance of winning a £100 goodie bag
CARA DELEVINGNE FRONTS NEW BURBERRY BODY FRAGRANCE
HAIR HOW-TO: NAIL THE BRUNETTE TREND FOR SS13
HAIR HOW-TO: ANNE HATHAWAY SIDE-SWEPT OSCARS CROP