Ever wondered how those
Brazilian supermodels
, get their hair looking so damn good, while we're stuck
with split ends
?
We try and avoid looking at all those quiffs and fauxhawks on the World Cup players and instead admire all
those covetable waves
of the WAGs and female fans.
Well,
the secret's out
.
Apparently,
Victoria's Secret model
,
Barbara Fialho
swears by a treatment called Velaterapia, a procedure which involves burning (yes, burning) off split ends with a naked flame.
This is
a thing
, we hear you cry?
Offered at Sao Paolo's
Laces and Hair Salon
, according to reports,
Alessandra Ambrosio
and Isabeli Fontana are also big fans.
The salon's website says the treatment's
for dyed hair
, straightened hair and hair that need a
deep repairing
process and here's how it's done.
"...a flame cauterizes the hair, leaving behind a passage of nutrients to its interior, removes split ends and the impermeability of the hair caused by brushing and other chemicals."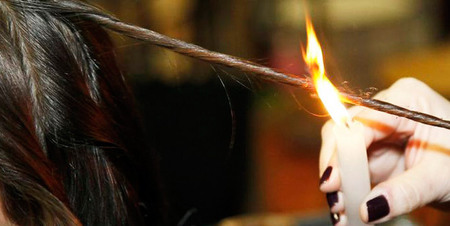 Also endorsed by local beauties,
Vogue Brazil
editor Victoria Ceridono told
Fashionista
:
"It's unbelievable. You don't
get shorter hair
, but if you touch the treated side it feels so much smoother and healthier!"
Taking 3 hours to get done, Fialho says it's actually
gentler than the alternatives
.
Nobody's actually mentioned what
it smells like though
...we dread to think.
Would you burn off your split ends with this treatment?
Absolutely. Anything to get rid of the wretched things.
35.29%
Maybe but I'd need to know more about it...
35.29%
No way. No one touch my crowning glory with fire.
29.41%
THE SECRET TO HAIR AND SKIN LIKE MILLIE MACKINTOSH
CELEBRITY SKINCARE SECRETS
MORE BEAUTY NEWS
LOTS MORE ON HANDBAG.COM