Blink and you'll miss it.
Natural Colour Works in Soho
is nestled in a quiet street a few paces away from the hustle and bustle of Carnaby Street and Oxford Street.
Opened ten years ago by organic hair experts Scott Carey and Bradley Evans, don't be fooled by the salon's no-frills cream interior.
Serious magic happens here
.
This is the place you go to if you're tired of
putting chemicals in your hair or if
, like us you're allergic to hair dye but still want to change up your hairstyle.
The salon uses soya colour and water colour, both permanent and without ammonia (and no peroxide for the water colour), which is often what women are allergic to in hair dye.
But just
because these products are organic
doesn't mean they don't work. Far from it in fact.
On arrival, we sat down for our consultation with Bradley, who advised us on what colour would suit. We decided
on a ombre style
, going lighter at the tips.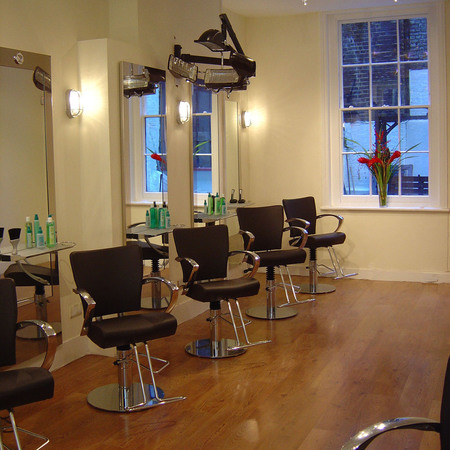 Bradley shared his
hair colour knowledge
while he applied the hair colour, and we were then left to relax with a magazine for half an hour or so for it to set.
Then came the
really
relaxing bit. The
shampoo to wash off
the excess hair colour and the mother of all head massages. Bliss.
Next, the moment of truth. As Bradley worked his
magic with the blow-dry
, we started wondering whether we'd really see the difference. Yes, we were sceptical.
But we needn't have been. The ta-da moment
at the final flick of the hairbursh
was all we hoped for and more.
Our hair was indeed much lighter at the ends, but without that
horrible dip-dye bluntness
.
Fair hair mingled in with lighter chestnut shades for a really subtle yet striking effect. Plus our hair didn't feel dry in the slightest. Sold.
Hair colour starts at £50.
MAKE LIKE MIC WITH AN AJALA SPA FACIAL
HOLIDAY-PROOF YOUR HAIR
MORE BEAUTY TIPS