If the reality of your
wedding budget
is putting a dampener on your big day plans - there are ways to have the wedding of your dreams without making yourself bankrupt.
We spoke to wedding expert Samantha Birch who has a few tricks up her sleeve to help you beat the budget.
She said, "You fell in love, he popped the question, it was all feeling a bit Richard Curtis. Now you're staring down the barrel of three years of saving before you can actually get down the aisle. You could grin and bear the wait, you could run off to Gretna Green or you could cut your costs and get wed now."
10 tips for saving money on your wedding
1. Take the plunge
When we say now, we mean like, right this minute – if you've got the guts to
plan a wedding
in three months or less, you'll find a lot of venues will let you in on a secret: their 'whirlwind' package, which can include savings on everything from room hire to stationery.
2. In another time, in another place
More of a six to 12 months bride? Opt for off-peak nuptials: weekends cost more than weekdays, and summer is pricier than winter. Speak
to your venue
about when they reckon is their low season, and how much they're willing to drop their prices if you help them fill the gap in their schedule.
3. The way to a bride's heart
There was a time when dry chicken and tasteless puds were all part of the wedding experience – and way back when, a finger buffet was the only affordable alternative. Now we've upped the ante. Swap your
sit-down meal for a barbecue
, hog roast or
afternoon tea
– and top up with a sweetie table crammed with lollies and sugary treats.
4. 'Tis better to have rocked and lost
There's more than one way to hire your wedding dress. Sites like
Wish Want Wear
are popping up all over the shop.
Who cares if your gown doesn't get its rightful place in your attic for eternity? You'll have worn a
Temperley London showstopper
to your wedding – for less than £200.
5. Better the fashion you know
The high street is cottoning on to all things bridal, from your dress to your cover-up and your tiara to your shoes. Shop around at familiar brands like H&M, Coast, Debenhams and Monsoon – you'll find styles that go from ruffled and romantic to traffic-stopping chic.
6. Picture this
Whether it's the stylist who's turning your hair
from frizz-ball to chignon
or the photographer who's packing Photoshop – and knows how to use it – there are rules to keeping your suppliers' rates reasonable.
Hire them locally, or risk paying their travel or even putting them up, and keep their hours short – the longer they're there, the more chance you'll need to feed them and, yes, the more costs you'll clock up.
7. Slice as nice
The simpler the design and the fewer the tiers, the less
budget-busting your cake
, obvs – but there's more to it than that. Go for squares over circles if you want to maximise your portion count, and keep extra, plain tiers in the back instead of paying to deck them out.
8. Growing like weeds
Flowers are like smartphones: you won't notice how much you've spent until half your wages are gone. Be ruthless about what you want – is a whole arch strictly necessary? – and stay on track by
picking seasonal blooms
, shrinking your arrangements, or padding them out with lots of purse-friendly greenery.
9. #Bestdayever
Set up a
wedding website
. You'll save on stationery costs since you can ping venue details, hotel options etc. up there instead of paying for extra pages with your invite. It'll also spare you a manic W-day morning as guests realise they've forgotten which 'safe place' they left the paper version in.
10. Newlyweds just wanna have fun
When it comes to entertainment, DJs usually beat bands on price – but they're not your only options. Consider personalising a playlist and hooking up your iPod, filling your outdoor space with giant games like Jenga, or drafting in your most show-offing relative to compére a quiz.'
Samantha Birch is the author of The High-Street Bride's Guide, out now on Amazon, iTunes, Google Plus and more, £2.48, amazon.co.uk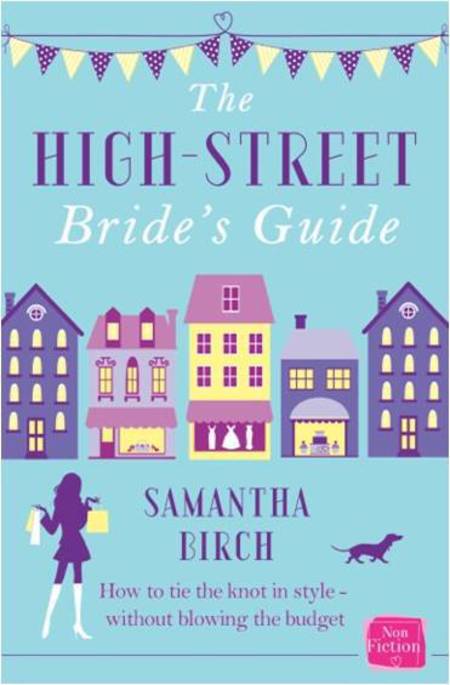 5 OF THE BEST BRIDAL BEAUTY PRODUCTS
SEASONAL WEDDING FLOWERS: SUMMER
MORE WEDDING ADVICE
10 best celebrity wedding dresses ever