Buying your
first designer handbag
on
eBay
can be mega daunting. What if it's a fake? What if it's not as nice as in the pictures?
Fret not, we've got all the info you need
to avoid any counterfeit or misselling mishaps
.
So before you start a bidding war on a
Mulberry
,
Chanel
or
Louis Vuitton handbag
, read this quick guide.
Check out the seller
That sinking feeling once you've bought an item when you realise that
the seller has awful feedback
. Before you click, check fellow buyers' feedback, which is a pretty good indication of who you're dealing with.
If the seller has previously sold designer handbags, have a look at the ended listing as well as the corresponding feedback (you can search the comments by date).
Ask questions about the item
If you have a question about the listing, be it about the size, colour or
authenticity of the handbag
, don't be afraid to ask the seller. If the seller dodges the question or seems vague, avoid.
Have a think about it
It may seem like an obvious one, but pop the listing on your watch list and have a little think about it first. Unless you're really lucky, you will probably
end up paying over £100
for the handbag, and you often can't return it, so make sure you actually want it.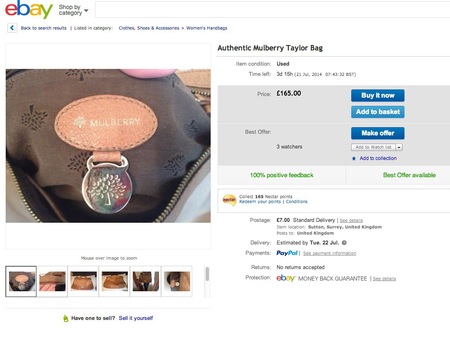 How much is it appropriate to pay?
The price of the handbag depends entirely on what the seller wants for it, and unfortunately that can be well above the RRP. Google the bag to see
how much it normally costs
, factor in the state of it (is it new? Used? Does it have scuffs or marks?), and then decide how much you're willing to pay.
If that's less than the buyer wants, it's always worth getting in touch to ask if they'll accept a lower offer, even if the ad doesn't have a 'Make offer' option. If the seller accepts, great, if not, then save the search and
wait till someone else puts it up for sale
.
Which designer handbags should I buy?
What's popular on eBay
reflects the current trends
, and as a result particular, designers and pieces will be popular at different times.
If you're patient, waiting a season or two
for your dream bag
may mean you get a better price for it, because if it's less in demand, the seller may be willing to negotiate.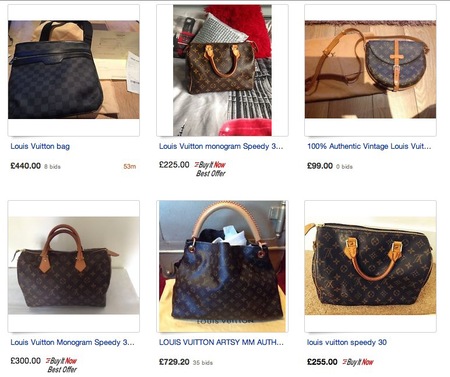 How can I spot a counterfeit handbag?
Unfortunately, there are
some very good counterfeits out there
, and it can sometimes be tricky to spot them. Steer clear of listings that don't have pictures of the actual bag (ie, just pics grabbed
from the designer website
).
It helps if the seller has posted pictures of receipts, warrantees, original packaging, close-ups of logos/branding and serial numbers where applicable,
for example on the inside of Mulberry bags
.
What do I do if I've accidentally bought counterfeit handbag?
Don't panic. Report it immediately, as
eBay's Money Back Guarantee
covers any problems reported within the first 30 days. Make sure you pay using PayPal as well, as the protection is extended even further, to 180 days from the date of purchase.
eBay will then investigate and suspend the seller so it doesn't happen again, and you will get your money refunded via
PayPal
.
Have you ever bought a designer handbag on eBay? Tweet us
@handbagcom
HOW TO SPOT A FAKE HANDBAG
HOW TO GET THE BEST OUT OF CHARITY SHOPS
MORE BUYING TIPS