We've kept our eye out for all the biggest rumours of the day and served up all the juicy gossip right here...
1. Katy Perry and Russell Brand together again
Well, no but the divorced couple were both watching the same
Lakers
basketball game which almost counts. While Katy and Russell didn't sit anywhere near each other we think it's great that they can be in the same event together.
Katy was at the game with her father Keith Hudson, while Russell sat in the front row chatting away to celeb folk like David Beckham.
Good thing she didn't bring John Mayer along or this could have got a bit awkward.
2. Ed Sheeran gets Taylor Swift tattoo?
Ed Sheeran and Taylor Swift have gotten pretty chummy after they did a bit of song writing together for her new album,
Red
. They're actually going on tour together next year.
The pair's amazing duet,
Everything Has Changed
, is storming up the charts and now a tattoo of Taylor's album title
Red
has been spotted on Ed's arm.
Ed had tat inked by One Direction's tattoo artist Kevin Paul and we bet Taylor is well chuffed.
3. Miley Cyrus working with Pharell Williams
Miley Cyrus is definitely willing to do what it takes to shed her
Disney
princess image.
After THAT haircut, it's now been revealed that Miley is working on a new album with R'n'B super producer Pharell Williams and controversial rapper Tyler The Creator, whose band Odd Future Wolf Gang Kill Them All (a.k.a. OFWGKTA or Odd Future) are known for their pretty violent lyrics.
Speaking to Marie Claire, Miley said, "It was magic. Pharrell said: 'Don't be offended because this is how I talk, but [I thought] "That b**** is actually living.
"She's not sitting there with her Momager's chain on her door. I want to free that b****. I want her out of her cage."
Sounds a bit intense...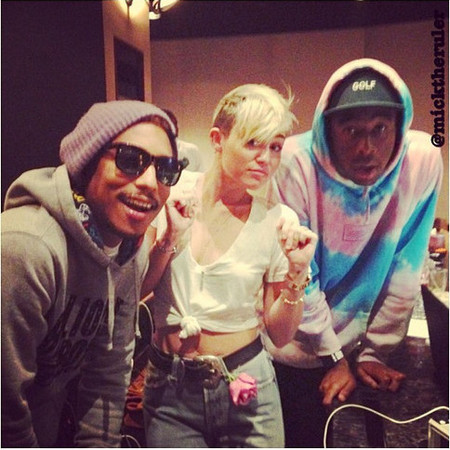 EXCLUSIVE PEOPLE LIKE US CLIP
RITA ORA AND ROB KARDASHIAN GO PUBLIC
RIHANNA DINNER DATE WITH CHRIS BROWN'S MUM