Britney Spears
finally
confirmed her Las Vegas residency
a few weeks ago and we got to thinking... what do we really want to see from Brit?
It's fair to say we've seen her run the whole spectrum of amazingness since she burst onto the scene with 'Baby One More Time' in 1998. From the brilliant (
Stronger
), to the not-so-brilliant (
Gimme More
at the VMAs), to the JUST GIVE UP AND STOP TRYING TO MAKE RADAR HAPPEN, PLEASE (
Radar
,
Radar
- again).
There's also the
new Smurfs 2 song
but the less said about that, the better.
Without further ado, here's what we at
Handbag
really want to see from Ms Spears in Vegas.
1. Stronger
This remains the best Britney song ever and we want - no,
need
- to see Britney do it live, complete with chair dancing and that amazing quiet bit at about 2 minutes 40 seconds in.
2. A Melissa Joan Hart cameo
Remember when
Sabrina the Teenage Witch
and
Clarissa Explains It All
star Melissa Joan Hart popped up as a waitress in the video for
(You Drive Me) Crazy
? We wouldn't be upset if she joined Britney on stage. Actually, we'd be downright ecstatic if she brought Salem the Cat along too.
Plus MJH's awkward dancing is hilarious.
3. A live python
Because Britney is currently being beaten by Betty White in the "number of photos with large snakes held by our photo agency" competition and that, frankly, just isn't on.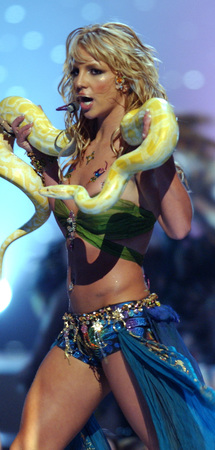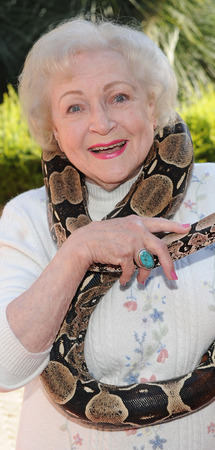 4. Pharrell Williams to join Britney on stage
We love that Pharrell's stormed back with Daft Punk's
Get Lucky
but that song doesn't even come close to the co-ed remix of
Boys
.
5. Lots of awkward ad-libs
Britney's crowd interactions have always been brilliant. Previously she wished concertgoers a 'Merry Christmas' in the middle of March and suggested fans 'rock out with [their] c*cks out'. Once she also left her mic on before jokingly complaining that her "p*ssy is hanging out".
So, there we have it. Britney's going to Vegas and we can't wait.
BRITNEY WANTS BABY NUMBER 3
DISNEY GIRLS GONE BAD: FROM PRINCESS TO QUEENS OF SCANDAL
RYAN GOSLING PLAYED SPIN THE BOTTLE WITH BRITNEY!