Victoria and David Beckham celebrate their 15 year wedding anniversary this week (July 4).
Through the good times, the scandals, the babies and all
those matching outfits
– Posh Spice and 'golden balls' Beckham have become one of the most loved celebrity couples.
Victoria Beckham
tweeted this to celebrate:
Thank you for your beautiful messages.Its such a special day for us both.Your love and support means so much x vb pic.twitter.com/A8S0PkMgIt

— Victoria Beckham (@victoriabeckham) July 4, 2014
Let's see what they have to teach us about going the distance:
The secret to a happy marriage?
David revealed the secret to making a marriage work back in 2009, "You have to have fun together. We've got three beautiful children together which our whole time is making them happy and
making sure they're healthy
and good so most of our time is spent on them. But we have to also
spend time together as a couple
and that's always important."
(People.com)
On being stronger together
"I wouldn't be where I am without David. He gives me the security and encouragement to do what I do...I do the same for him."
(Vogue)
David on loving Posh for who she is
"I like Victoria for herself...I'd like her if she worked in Tesco."
(The Guardian)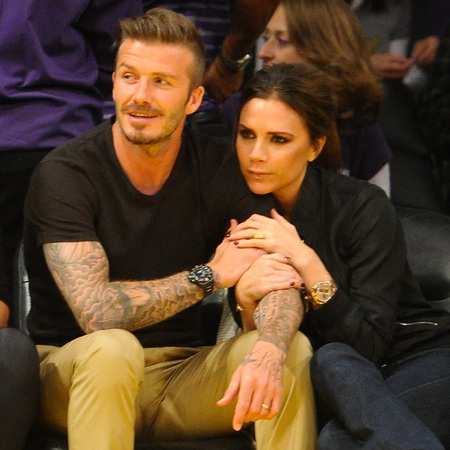 Victoria on being matchy-matchy
"He's got more personality than people think and he's
very deep and spiritual
. He always knows how to dress, that was part of his appeal originally. We've got matching dogs, matching watches, similar wardrobes, matching Jags. I know it's tacky, but it makes me laugh."
(Guardian.co.uk)
Victoria on balancing career & family
"I know I would sacrifice anything for my boys,
including my career,
even though I also know that they would never ask me to."
(VB's autobiography)
David on being romantic
"If you love someone, you want to treat them, surprise them, remind them how you feel, whether that means a
weekend away somewhere,
or a bowl of fruit in the morning laid out in the shape of a heart. I know Victoria thinks I'm romantic like that."
(David's autobiography)
David on being together forever
"People can say what they like. But me and Victoria will always stay together as husband and wife...We'll always stick together."
(Daily Mail)
Love those guys.
BEST CELEBRITY WEDDING DRESSES EVER...
VICTORIA BECKHAM'S KIDS WORK OUT WITH HER
THE DO'S & DON'TS OF WEDDING HAIR EXTENSIONS
MORE CELEB FEATURES