This week, over 360 bookshops around the UK are taking part in Independent Booksellers Week, a week-long celebration of independent bookshops, organised by The Booksellers Association. We're celebrating IBW by looking The 10 best independent bookshops in the UK.
Have we missed any out? Support your local independent bookshop and leave your comments below.
1.
Simply Books, Bramhall
An award-winning independent bookshop and cafe in the centre of Bramhall Village in Cheshire, Simply Books, is winner of the Children's Independent Bookshop of The Year, Independent Bookshop of the Year, and Independent Bookseller of the Year 2008. This independent bookshop prides itself on the exciting events they run including book clubs, coffee mornings and a great programme of author and themed events for all ages throughout the year. In June each year they celebrate Independent Booksellers Week and this year the author Jen Campbell is attending the shop to do a talk and sign copies of her book,
Weird Things Customers Say in Bookshops
, on July 4 at 7pm. Simply Books even offers valet parking!
2.
Mabecron Books, Falmouth
Falmouth Bookseller hosts many vibrant and diverse book events throughout the year. Later this month visitors can attend a book signing by Dawn French, and in celebration of IBW, illustrator Rebecca Cobb will be attempting a World Record for the longest ever paper doll chain. As event partner of Splash Arts Festival in September, Falmouth Bookseller hosts eccentric activities such as as Dog Tales, a wacky event combining six dogs, six children, six well-known illustrators, six easels and a whole lot of imagination in a single hour.
3.
Dulwich Books, London
Dulwich Books was voted London's best Independent Bookshop by the book industry in 2012 and again in 2013. Stocking a mammoth 8,500+ titles, this bookshop can order in pretty much any book for your collection the following day. For the past few years Dulwich Books has been a leading player in the national celebration of IBW with 2013 being no different as they play host to nine events under the banner of Summer Voices which include poetry, live music, children's storytelling, evening talks and even a celebrity bookseller.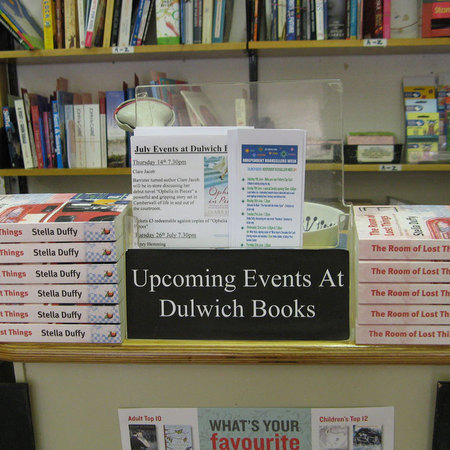 4.
The Bookcase, Lowdham
The Bookcase is a friendly independent book shop founded in 1996 situated in the village of Lowdham near Nottingham. They run an annual book festival and stage author events throughout the year. In its first year it scooped the prestigious Independent Retailer Excellence Award.
5.
Hayling Island Bookshop, Hayling Island
The Award-winning Hayling Island Bookshop was named as South of England Independent Bookshop of the year and invited to The House Of Commons as finalists in the 2011 Parliamentary Best Small Shops Awards. An exciting events agenda is important for this independent bookshop and famous authors who have run or supported events include Terry Pratchett, Jacqueline Wilson, Anne Widdecombe, Ian Whybrow, Kate Mosse and many more.
6.
Walkers Bookshop, Lincolnshire
Walkers is a family run business, serving Oakham & Stamford since 1972. The bookshop has won many awards, including the Bookseller Association Outstanding Contribution to Independent Bookselling Award in 2008.
7.
The Torbay Bookshop, Devon
Throughout IBW The Torbay Bookshop, will be playing host to a mammoth range of celebrity and local authors; a signing session with Devon resident, Ann Widdicombe signing her new book:
Strictly Ann: The Autobiography
, local bestselling author Kate Furnivall will be signing her new book
Shadows on the Nile
, and the BBC's southwest Crime Correspondent, Simon Hall, signing his new novel
Shadows of Justice
. In addition, the annual hotly contested quiz, the Hodder/John Murray Book Boffin Quiz will be held at The Paignton Club.
8.
New Bookshop, Cockermouth
This is a bookshop with a fantastic local reputation and values with an eclectic collection of books, carefully selected and elegantly displayed. But you will also find a bustling Café - with home baked cakes, soup, and light lunches. The New Bookshop offer one of the best and the probably the freshest roasted coffees in Cockermouth. Nestled at the rear of the bookshop it is one of Cockermouth's best hidden secrets.
9.
Caxton Books and Gallery, Essex
Caxton Books & Gallery, owned by Judith Charlesworth and Sally Johnson, is an independent bookshop just a stone's throw from the sweeping sands of Frinton Beach, with a diverse collection of work by local artists. Last year, Caxton Books started Cinema-on-Sea, where they show recent films on a big screen once a month in the local WI Hall with wine & ice-cream in the intermission.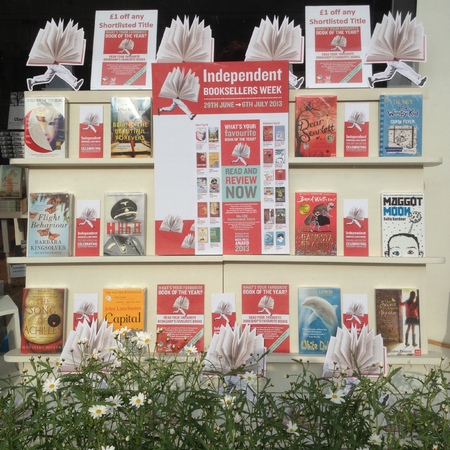 10.
Rossiter Books - Ross-on-Wye, Herefordshire
Rossiter Books is a family run business owned by Andy and Victoria Rossiter. With panoramic views over the River Wye and Herefordshire countryside, Rossiter Books is housed in the Corn Exchange, a Grade II listed building which dates back to 1862. From the day the building first opened its doors the first floor was associated with entertainment; regular events like cabaret, bands, poetry readings, plays and even roller-skating were held there and continue this tradition today.
For more information about Independent Booksellers Week, check out
www.independentbooksellersweek.org.uk