It's not even 4 years old, but since launch
Pinterest
has become something of an inspiration station for wedding planners, designers, bakers and fashionistas alike.
The site's recent UK campaign 'Pin It Forward' has attracted thousands of new 'pinners' and we've spoken with some of them to get the low-down on how the social platform has been inspiring a nation. Without further adieu, and with the help of these Pinterest ambassadors, here are 10 ways that Pinterest could change your life for the better...
1. Create your virtual wardrobe
Kristabel Plummer
, Knitwear Designer, says - Pinterest is perfect for visualising how I'd like to get dressed every day. My outfit inspiration board is perfect for when I'm at a loss for what to wear. I may not own most of the items featured but it gives me ideas for colours, proportion and those little styling details. At the moment I'm trying to get into a SS13 state of mind, but still thinking of ways to add coats, layers and not freeze myself to death in the evenings!"
2. Plan your perfect wedding
Claire White
, Textile Designer, says, "If I could give brides-to-be one piece of advice when starting their wedding planning journey, it would be to join Pinterest! Use it as a visual online scrap book, pinning, collecting and organising all of your very favourite images. Initially I suggest creating boards for each area of your planning, from the all important dress, to flowers, stationery, cakes and reception styling. Make sure you take full advantage of the 'secret boards' tool too, by inviting your bridesmaids to pin to the same board, so you can all share dress, hair and beauty ideas. You could also create a board with your florist or stylist, where you can both pin and share ideas."
3. Turn your hobby into a career
Natasha Collins
, Owner,
Nevie-Pie Cakes
, says, "I found my new career after trawling the internet for cakes when I wanted to make a birthday cake for my first child. I was amazed at the modern, fun and definitely non-fussy cakes I found, and knew that it was something I could do, firstly as a hobby, and then as a business. The problem I had was that I would often lose the designs I came across in the 'cloud'. Pinterest gave me the opportunity to keep all the fabulous cake inspiration I found in one easily accessible place."
4. Make gift wish-lists for birthdays and celebrations
Louise Horler
, Fabric designer, says – "Pinterest is great for getting gifts you want! I have an 'I Want' board which I pin the things I love on during the year. I can then point people to my board at Christmas and Birthdays and don't have to try and remember what I want! I also have a fabulous 'Sewing Gifts' board for my Business. I pin gorgeous sewing related ideas to the board and add some of my own products too."
5. Plan the ultimate party with friends
"Joint projects, such as planning surprise baby showers or birthdays, are made so much easier as you can invite friends or colleagues to pin to a board." says Natasha Collins. "Needless to say, the 'secret board' tool comes in quite useful to manage the surprise element!"
6. Map out your dream trip away
Zoe Dawes
, Travel Blogger, says, "One of the first pictures I posted was of a delicious meal in Jerez, Spain and then discovered other boards sharing food from around the world. If I'm going to visit somewhere new I search 'on Pinterest to find photos of those places and often click through the link to find out more. My favourite board is my 'Quirky Traveller Board' where I share photos from my blog site, especially some of the fun and interesting things I've seen - Knossos Palace in Crete, gone on cruise to Norway and eaten bush food near Uluru, Australia when travelling around the world.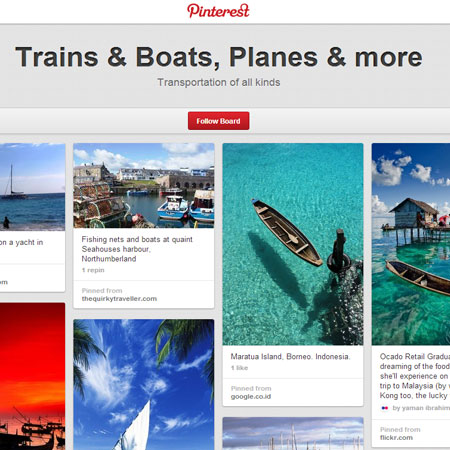 7. Create boards that mean business!
"Now that my business is established I am working on many collaborative projects" says Natasha Collins. "Pinterest is the perfect way to make sure we are all on the same track visually. I am working on a project at the moment with an Australian company, and our board is proving invaluable for us. It is exciting to wake up in the morning and see what they have added while I've been sleeping!"
As a freelance designer, I need to constantly stay on top of emerging trends and new innovations in knitwear." says Kristabel Plummer. "I have a board dedicated to this, which I constantly refer to if I need a new stitch or styling idea. It's also great to follow other creatives, textile designers, illustrators and stylists to see what they're up to and feed off each other.
8. Become a 21st Century DIYer!
Zoe Brewer
, Creative Director and Owner, My Interior Stylist, says – "The key to home DIY projects is to get inside your head and find out what you really like. To start out, create a board for your room and then pin images that you love to the board. It doesn't need to all be about sofas and lampshades, you can search and source ideas via colour, textures, fashion, food whatever triggers a good emotion initially. You will start to find that certain colours or ideas become prominent and soon a theme will emerge when you see all the pins together and, tada!... you'll have the beginnings of a fabulous scheme."
9. Embrace your curiosity!
Natasha Collins says, "Being a visual, creative person means that I get inspired by the most random things. So I make sure that I am following an eclectic group of people. I would get bored just looking at cakes every day! There are pictures of birds, living rooms, vintage fabric, craft projects for kids, cowboy boots, origami rabbits, and desert islands among my many, many pins. Sometimes at the end of a hard day I will scroll through them, just to perk myself up again!"
Kristabel Plummer says,"Pinterest is like a window into how our mind works. The more diverse the boards, the more you learn about a complete personality and it's definitely interesting to learn more about friends and use it to start a conversation. I like the fact that I can have a board purely devoted to tights, if people like it they can follow it and if not they can avoid it."
10. Bring your good deeds to life!
Louise Horler says, "I run a charity in the UK called 'Dress a Girl Around the World'. People who can sew make little dresses which are distributed to girls in the developing world. I now have a
charity board
where I can share photos of the dresses being distributed and also share links to patterns and tutorials for making the dresses. This is a great way of sharing details about the charity with a whole new audience."
All bloggers who contributed to the tips above are part of Pinterest's UK Pin It Forward (#PintItForward) campaign. Recently, 300 bloggers from the UK shared boards and stories about what inspires them and how Pinterest is a part of their personal passions and also recommended their own favourite pinners.
Are you a fan of Pinterest? Leave your comments below,
Find Handbag's Pinterest page at
pinterest.com/handbagcom
KATE MOSS TO DESIGN FASHIONABLE SMARTPHONE CASES
IS THIS THE MOST UNROMANTIC WEDDING RING EVER MADE?
STUFF WE WANT: A DAFT PUNK HELMET