Day two of Wireless festival 2013 picked up were Justin Timberlake and co left us as the likes of Calvin Harris, Tinie Tempah and Emeli Sande stormed the stage before all eyes turned to
Jay Z
.
Anyone who thought having Earth, Wind and Fire kick the day off on the main stage was strange we soon eating their words as the R 'n' B legends had the crowd dancing away to classic hits such as ...
We then jumped back to the present with DJ Fresh, Macklemore & Ryan Lewis storming the stage with their recent chart-topping tracks.
Miguel came on for his second day in a row before popular new rapper Kendrick Lamar helped to get the rap heads in the crowd warmed up for the main man Jay Z.
Did you know British tennis star Laura Robson was a Miguel fan? We spied her at the side of the stage singing all the lyrics for
Adorn
just like the rest of us!
Over at the Pepsi Max stage, a surprise gig from Tinie Tempah went down like a storm as did the highly anticipated set by DJ of the moment Calvin Harris.
But back on the main stage, Rita Ora faced a slightly tough time trying to keep the crowd levels up. We think a mixture of the heat and all the energy people have used up during the performances by Macklemore and Kendrick meant they just weren't as into Rita as they could have been.
People seemed to be dropping off right, left and centre proving an all important reminder that you need to come prepared for the hours spent in direct sunlight at these types of festivals.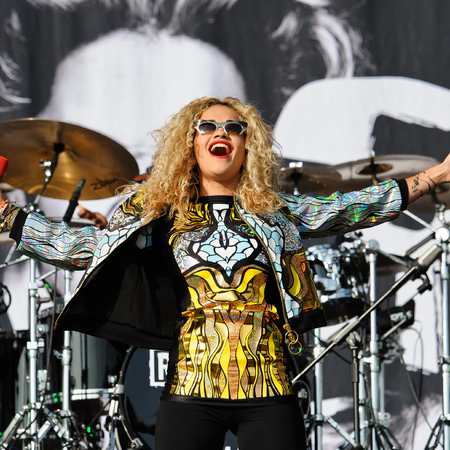 Still Rita gave it her all and as she finished off with her biggest hits, the crowds cheered away especially thanks to some pyrotechnic displays at the front of the stage.
While people might say Emeli Sande has been too overplayed over the past 2 years, the crowd's reaction to her set proves that there is never such a thing as too much Emeli Sande.
The mixture of flawless vocals, her amazing songs and her obvious joy at being on the stage made for a truly enjoyable set for all.
But finally it was time for the main man himself, Mr Shawn Carter aka Jay Z.
Considering he headlined the Big Hackney Weekend last year, some might have worries that this year's performance might have been dull. But that certainly wasn't the case.
With a huge set of lights behind him, the rapper came on and started off with
Public Service Announcement (Interlude).
After 17 years in the music industry it's always going to be hard for Jay to perform all the tracks his fans want to hear. But he did a great job choosing much loved classics like
Jigga What, Jigga Who
,
Hard Knock Life
,
99 Problems
and
Dirt off your shoulder.
Speaking to the crowd he said: "I feel the love tonight. I like it out here. I feel beautiful and I feel your energy. I appreciate it. You've been an incredible audience tonight."
He added, ""You could have been anywhere else in the world tonight and you chose here, we appreciate that."
Then he spoke about his new album,
Magna Carta Holy Grail
as he said with pride, "Number One in 59 countries and most importantly, my first in England.
"
Then the crowd surprised the rapper as they energetically rapped along word for word to his newest tracks,
Tom Ford, Picasso Baby
and
Beach Is Better.
In a truly memorable moment, our part of the crowd actually made him change his set and perform
SomewhereInAmerica
just so everyone could say the now infamous line, "Somewhere in America, Miley Cyrus is still twerking".
He also performed classic tracks like
Empire State of Mind, Run This Town, 03 Bonnie & Clyde
plus his verse on
Crazy In Love
and
Clique.
But unfortunately there was no Kanye West, Beyonce, Rihanna or Alicia Keys making surprise guest appearances.
But it was okay because Justin Timberlake returned the favour
from the night before
and came out for the first ever live performance of the duo's new track,
Holy Grail
.
Awesome to say the least! It was only after the night was done that we realised Jay hadn't performed any of his Watch The Throne hits. Maybe that's coming on the Sunday finale...
Did you see Jay live? What have been your favourite Wiresless festival moments?
REVIEW: JUSTIN TIMBERLAKE AT WIRELESS FESTIVAL
WIRELESS FESTIVAL PLAYLIST 2013
REVIEW: BEYONCE WOWS AT CHIME FOR CHANGE CONCERT