Elizabeth Taylor
and Richard Burton were the original celebrity golden couple and their love story is one of the greatest of all time.
After countless biopics over the years, along comes the BBC's own version:
Burton and Taylor
.
The film, which airs tonight on BBC Four, captures the final days of the couple as they embark on a troubled theatre tour. Elizabeth Taylor (played be Helena Bonham Carter) tried desperately to win her ex-husband back, but her efforts fall flat.
What's it actually about?
The film features Hollywood stars Helena Bonham Carter and Dominic West taking on the roles of the infamous silver screen couple and their tumultuous acting careers.
Focusing solely on their final acting days together, the film re-enacts Elizabeth Taylor's bid to win her twice ex-husband Richard Burton back by luring him into an attractive £50,000-a-week role in Noel Coward's play
Private Lives
.
It was thought to signify the couples' reunion (they were like the Brangelina of their day) and a return to their status as Hollywood's most admired golden couple.
However things soon backfired when Taylor's destructive behaviour - she was constantly hooked on booze and pills during rehearsals - turned into a struggle for the newly-sober Burton.
Burton went off and married his younger love Sally Hall during the run and the tour ultimately ended with Taylor venting all of her fury on Burton for real each night on stage.
The BBC film will highlight how Elizabeth had problems holding it together - arriving drunk to rehearsals, inventing new lines to sabotage Burton, attacking him with full force during the fight scenes, and she even bought her pet parrot on stage unexpectedly to throw him off!
Burton and Taylor
captures the last time the couple worked together before Burton's brain haemorrhage in 1984.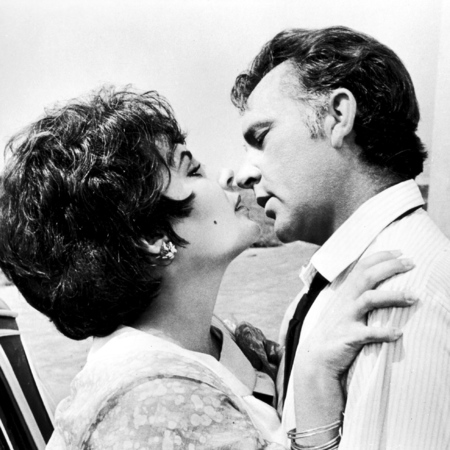 Here are our top 5 facts about the golden couple...1.
The couple met on the set of
Cleopatra
in 1963 and began a very public affair, even though they both had partners at the time.
2.
The couple were married twice. Their first marriage lasted from 1964 until 1974, while their second was from 1975 to 1976.
3.
Elizabeth received her final love letter from Richard, which he sent on 2 August 1984, three days before his death. When she passed away in 2011, she was buried with the love letter.
4.
Cleopatra
was one of the most expensive films ever made. It took $44 million (about $300 million today), two directors, two separate casts, and two and a half years of on-and-off filming in England, Italy, Egypt, and Spain to bring the film to screen.
5.
Sian Owen, one of Burton's nieces, admitted that she saw Elizabeth Taylor shortly before her death in 2011 and said that she kept a black and white image of herself and Burton by her bed and said, "He was the love of my life. He's always with me."
Check out the trailer for the BBC film below...
Burton and Taylor
will air on BBC FOUR tonight from 9-10:30pm.
Will you be watching?
JESSICA CHASTAIN GOES GLAM IN RED LACE BY DOLCE AND GABBANA
MICHELLE KEEGAN PUTS MARK WRIGHT TO BACK OF MIND AS SHE HITS THE TOWN
LILY COLLINS EXPLAINS WHY YOU'LL LOVE THE MORTAL INSTRUMENTS: CITY OF BONES