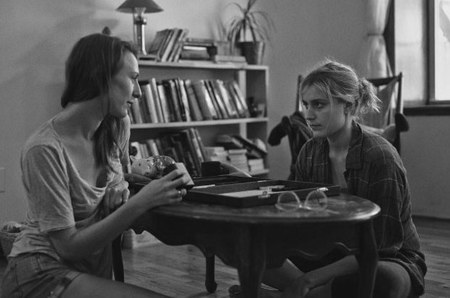 Frances Ha
(played expertly by
Greta Gerwig
) is a 27-year-old aspiring dancer trying to make it big in New York, but she's struggling with cash and can barely afford the subway, let alone her rent. So what's a girl to do?
Well, she sucks it up and carries on until she gets somewhere, that's what. You go girlfriend!
Frances is, to put it mildly, in the middle of a 'quarter-life crisis'. Everything that could possibly go wrong, is going wrong.
It kinda' sucks too that her best pal Sophie (played by Mickey Sumner) seems to have it all in comparison; fiancé, salary, new pad. Pretty much everything Frances needs and wants.
But with plenty of humour, optimism, and straight-talking, we think this film is going to be a cult winner.
It's even been compared to Woody Allen's
Manhattan
, so it must be good, right?
Here's why we think you'll love it...
1. It's black and white
.
Aside from
The Artist
, all the films these days are so... colourful. Let's rewind time and give our eyes a rest from all the colours of the rainbow, shall we?
2. It's realistic
It's all well and good painting the world with rose-tinted optimism, but we all know that real life is a struggle with plenty of ups-and-downs. That's why this film is pretty refreshing - people actually fall over, people hit each other in the face, and people actually admit that the world sucks sometimes. Woo-hoo!
3. You'll full on LOL
It's not just a comedy, it's a funny comedy. Like, you'll actually laugh because something funny happened and not because you feel like you should just because it's advertised as 'comedy' in the trailer.
4. It's like Lena Dunham's Girls
Move over Lena and make way for Greta Gerwig. It's awkward, funny and slightly too close-to-home, exactly like the HBO drama. You've been warned.
5. It's set in the Big Apple
When a film's shot in New York, you know it's going to be good. Well, at least the scenery will be good.
Not fallen in love with it yet? Take a look at the trailer below...
What do you think?
ROSAMUND PIKE TO ACCEPT ROLE OF AMY DUNNE IN GONE GIRL MOVIE
WILL RYAN GOSLING PLAY LIKE SKYWALKER'S SON IN UPCOMING STAR WARS EPISODE VII?
JOHN TRAVOLTA'S NEW BRAZILIAN RUM ADVERT IS NOT GOOD