As the premiere for the brand new comedy film,
We're the Millers
takes place today, we've taken the opportunity to round up a few reasons why you should be booking your tickets for when it hits cinemas later this month.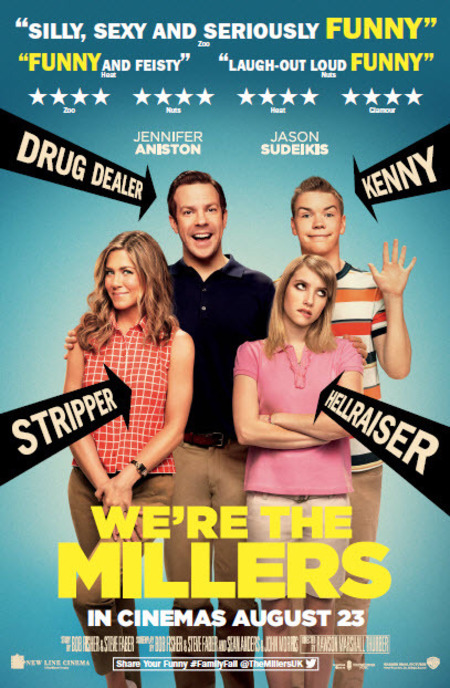 1. There's lots of laughs
As it's a comedy film about a bunch of misfits that are thrown into a crazy situation, you kind of expect tons of laughs and hilarious jokes. Jason Sudeikis plays David Clark who masterminds the idea of creating a fake family so that he can smuggle drugs out of Mexico.
Jennifer Aniston
plays a stripper, Rose O'Riley to pretends to be his wife while his fake kids are played by Emma Roberts and Will Poulter. Sounds like a good plot line if you asks us, we're sold.
2. The SNL/Friends reunion
Saturday Night Live star, Jason Sudeikis and former Friends gal, Jennifer Aniston reunite for their third film together. The twosome have been in the hilarious
Horrible Bosses
and
The Bounty Hunter
in the past. Plus, they'll reunite next year for Horrible Bosses 2. As friends in real life, the two improvised a lot of their on-screen banter, so that's sounds like a lot of fun.
3. Brit on the town
British newcomer Will Poulter puts on his best American accent and plays the fake son, Kenny who's an 18-year-old virgin. In the film, Will raps along to TLC's
Waterfalls
as well as engaging in some mouth-to-mouth action with Jennifer and Emma as his fake mum and sister show him how to French kiss. Ooh.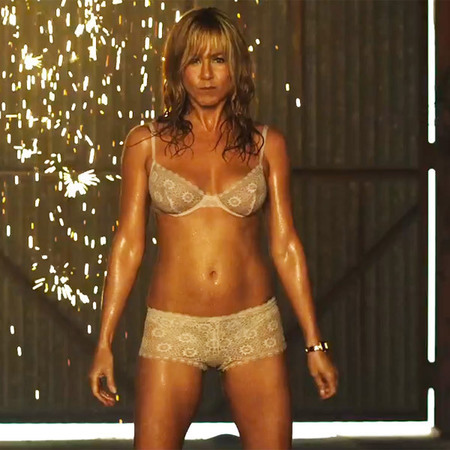 4. Jennifer Aniston strips down
Yep. Jennifer plays a stripper in the film and she looks smoking hot as she bares those legs and performs a striptease. She even gets soaked in once scene, a la Flashdance style. To prep for the role, the actress worked out every morning and stuck to a diet of greens, veg and kale. Grim.
5. It's not very PG
Well actually, it's rated 15 in the UK. It's full of rude jokes and gags so it's not one that you'd take a younger person to see. It's sort of a mash-up between
The Hangover
and
What Happens in Vegas
so it's a whole load of fun.
Watch the trailer below...
We're the Millers
hits UK cinemas on 23 August.
JENNIFER ANISTON CHANGES FIRST-CLASS FLIGHT
JENNIFER ANISTON BLAMES WEIGHT GAIN FOR PREGNANCY RUMOURS
HOLLYWOOD HARDCORE: 10 FILMS ALL ABOUT STRIPPERS