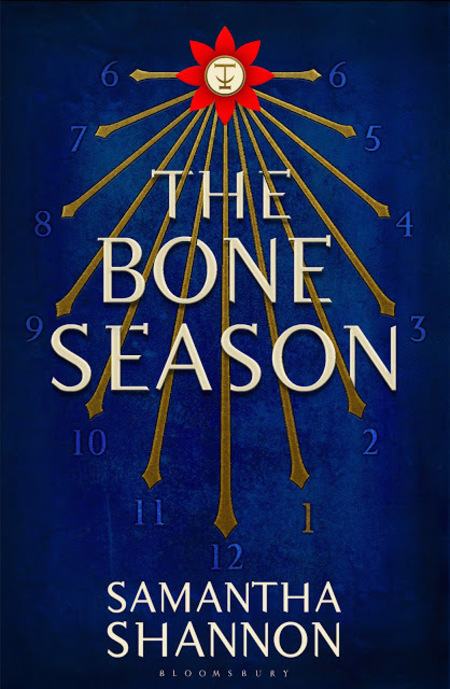 Some fans have compared this dense and fast paced sci-fi fantasy tome to
The Hunger Games
and
Divergent
, while others have called it the new
Harry Potter
. So, what's all the fuss about Oxford graduate
Samantha Shannon
's novel
The Bone Season
?
Born in 1991 (yes, really), Samantha started writing her seven part epic at just 19-years-old. Her story is set in 2059, in an alternative version of the UK, where 19-year-old Paige Mahoney is working in the criminal underworld of Scion London - a new political regime that seeks to separate clairvoyants (classed as dangerous criminals) and regular people.
Paige works for an underground faction based in Covent Garden, using her 'dream walking' abilities to read 'dreamscapes' or auras. With us so far?
She's heard about other psychics being taken at tube stations and check points, but when she's attached, drugged, kidnapped and shipped off to Oxford - a city kept secret for 200 years - where a race of highly evolved aliens feed off psychic powers.
Under their control and with no where to run, Paige must fight against her captors while dealing with her Warden, trainer and protector.Can she regain her freedom and return home or will she die in this secret other world?
Dun dun duhhh! If you're intrigued here are 5 things you need to know about
The Bone Season
before you start reading...
1. It's been guaranteed a seven book run:
The publishing juggernaut behind Samantha's book have confirmed that there will be another six books in the mind-melting series.
2. They WILL be given the big screen Hollywood treatment:
Andy Serkis' (he played Gollum in
Lord Of The Rings
) The Imaginarium Studios has optioned the book, so we can expect plenty of amazing
Avatar
-style motion capture action in a few years time.
3. You will be thrown in at the deep end:
There's no easy introduction to this book, you'll be expected to understand dreamscapes and the hundreds of different types of clairvoyants in about ten seconds flat. Then you'll have the tricky Scion underground factions to contend with...there's a whole lotta' world building going on here.
4. You will be continually checking the front of the book:
There's a very essential list of the different types of clairvoyants at the front of the book, as well as some maps. YOU WILL NEED TO LOOK AT THEM.
5. It's a hefty read:
It's essentially a door-stop, a draught excluder and could double up as a weapon if necessary. Think
Harry Potter and the Order of the Phoenix
big. With about 500 pages it's a mammoth read. Can you handle it?
Here are a few more books to read before they're turned into big budget Hollywood movies...
Will you be giving this book a read?
DOWNTON MEETS PRIDE & PREJUDICE IN NEW BOOK
READER REVIEW: THE GRAVITY OF BIRDS
EL JAMES WANTED ROBERT PATTINSON FOR CHRISTIAN GREY
ARE YOU READY TO 'SAVE WITH JAMIE'?