Iconic British designer
Giles Deacon
has teamed up with interiors giant DFS to create a limited edition fashion-forward sofa. The 'Lipgloss' features a statement black, grey and red print with a Pop Art edge - a bit like Giles' quirky
catwalk offerings
.
We caught up with Giles to chat about his inspiration, his eclectic home and his ideas for a AW13 home makeover...
Hi Giles, what can you tell us about your sofa design for DFS?
As a fashion designer, I wanted to draw on my own experience and design style. From the beginning of the process, I had a really clear vision of what I wanted to create. I call it sophistipop, mixing clean lines with a daring prints to create a standout feature piece that draws the eye. I messed around with a photographic background and created some illustrations, then we took those to the computer, blew them up and we were left with this big black lip print. There is one dress in particular that I designed for my SS13 collection that inspired me to create the final design.
In terms of the shape, I wanted to create a standout contemporary silhouette, but I also wanted to deliver something that was functional and comfortable to sit on. There's a matching footstool too!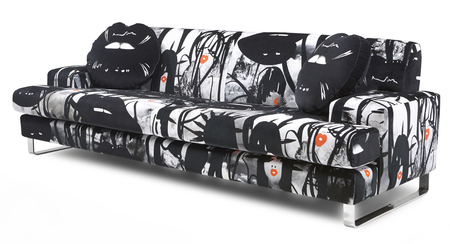 What are you drawn to when redesigning a room or shopping for interiors?
Personally, I love strong statement pieces that really draw they eye and add something striking to a plain room. A gorgeous printed piece of wall art or really good cushions with a bold pattern will help. I think the bolder the better!
What's your home like? We're picturing bright colours and clashing textures...
I'm definitely not minimal when it comes to styling my home. I think a room should show character and charm, which is why I've styled all the rooms in my house after a resort. I spend a lot of time in my kitchen, which is a bit like Marbella because of the bar! It's monochrome with red highlights a bit like the new sofa. I wouldn't say my house is terribly feminine...but it's not too boy-ish either.
What I really love about interiors are peoples' collections and knick knacks. Nothing too over-sentimental but something that reminds them of a particular time, place or memory. Whenever you travel or go somewhere exciting buy something small that reminds you of that period and build up a collection over the years. When you get old like I am, they're just really gorgeous things that you can look at!
How can we give our homes a quick AW13 update without splashing too much cash?
Buy some big gorgeous cushions in black or brown leather or pony skin to tap into the texture trend. A big pony skin or sheep skin rug will instantly update your bedroom. You can get really nice ones in loads of bold colours and they cost around £30 - they'll last a lifetime too.
What's all this we've heard about a new designer bursary scheme?
I've teamed up with the DFS Design Foundation to nurture young British talent. Final year under grads can enter and test their talents on a real life commercial brief. We're looking for students of not just fashion, but various disciplines to come forward. The entries will be judged by representatives from the British Fashion Council who will pick ten young designers for a master-class residential programme. The winner will get £20,000 worth of support and an internship at my London studio!
Giles' limited edition sofa and footstool is available to buy
here
.
What do you think?
CELEB HOMES: CAMERON DIAZ'S GLAMOROUS NYC APARTMENT
CELEB HOMES: SEE INSIDE GISELE BÜNDCHEN'S WARDROBE
GET ORGANISED! STYLISH STATIONERY PICKS YOU'LL LOVE
TURN YOUR BATHROOM INTO A 'SPATHROOM'