If you haven't heard of Haim, where the heck have you been? And more importantly start looking up their songs ASAP. The Californian sister act are made up of Este, Danielle and Alana and are rocking some seriously cool LA style all over the place. Here are eight reasons why we love the long haired ladies...
1. Coolest of friends-
One minute the girls are getting hugs from
Florence Welch
and the next they're high fiving
Little Mix
. When they're not too busy with other artists, Haim are known to hang out with Nick Grimshaw, Ellen Page and True Blood's Alexander Skarsgård.
2. They're sisters-
It would be pretty fun to tour with your sisters, plus if there was ever an argument they could always call their Mum to settle it.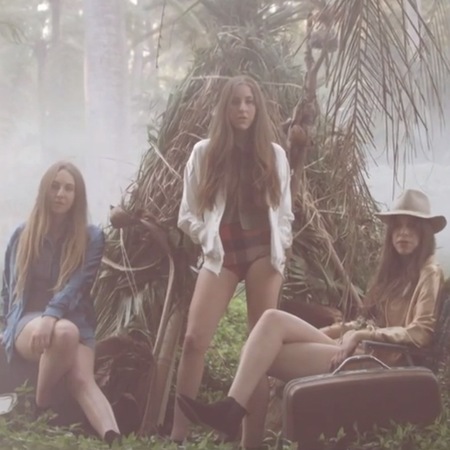 3. Haim style-
They have California coolness bursting from inside of them. With three wardrobes full of leather jackets, denim shorts,
cute dresses
and retro tees it's no reason they look damn cool all the time.
4. Music videos-
Haim don't take themselves too seriously in their videos. In the 'Don't save me' video they're seen playing hard ball in a basketball match against the boys and in 'the Wire' Alana ditches her boy via text with an emoji peace sign.
5. Cute old family photos-
What we would give to flick through a Haim family album, I don't know. The girls were in a family band called Rockinhaim with their parents. Imagine how awesome
Christmas
at the Haim's must be? Singing with a guitar around a Christmas tree, admiring each other's hair...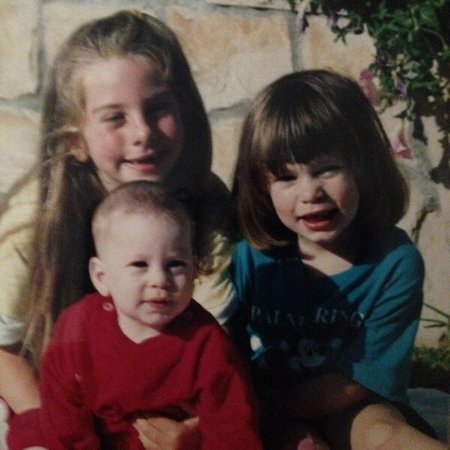 6. Not just one trick ponies-
All three of the Haim sister's can play more than one instrument. Eldest sister Este plays bass and guitar, middle sis Danielle plays drums and guitar and baby Haim Alana plays guitar, keyboard and percussion.
7. Alive and kickin in the noughties-
Este and Danielle were in a teen girl band Valli Girls, complete with these awful lyrics, crop tops and flame-shaped guitars...
8. Miley cover-
Haim recently covered Miley Cyrus's Wrecking Ball in the Radio 1 live lounge and it was amazing. Alana once tweeted about Miley's antics saying "Can't learn how to twerk cause all I do is werk."
In the #R1livelounge today the wonderful/talented/gorgeous @HAIMtheband sisters on my show

— fearne cotton (@Fearnecotton) September 25, 2013
Haim's debut album
Days are Gone
is out on the 30 September. Now excuse us while we go through the Haim family tree to see if we're their long lost sisters.
What do you think?
Take a look at some other amazing ladies who inspire us to form a girl band here.
CHRISTINA AGUILERA FOR HUNGER GAMES
MILEY CYRUS LOOKING HOT IN MIKE WILL MADE IT'S 23 VIDEO
GARY BARLOW GETS ELTON JOHN ON NEW ALBUM