Bridesmaid duties for me in the past have always been fun - until the subject of dresses crops up. My only stipulation is always "Please not strapless!" Otherwise I always end up looking like a rotund elderly lady carrying a couple of bowling balls on my hips. Not the look I want on my wedding day.
Now of course I know that losing weight will have an impact, they have gone up and down in size more times that a' you-know-what's' drawers and I've still got a little further to go. I've even considered surgery to make them smaller. Yes really, my dream of having small, pert boobs that fit snugly into a wedding dress can come true, for the princely sum of £6k. Erm, no thanks Mr Surgeon.
However, if at any point an unnamed local Lotto winner claims their winnings and I mysteriously go missing for a couple of weeks - you know where I've been.
In the meantime, I've compiled a list of the requirements for my dress. Not quite the usual brides dream dress checklist:
- White (standard)
- Definitely not strapless
- Nips in at the waist to accentuate size 14 curves
- Scaffolding-esque
- Able to hide back fat
- Covers up any stretch marks
- Lace, definitely not shiny satin
- Beautiful (of course!)
So I was imagining a monstrosity such as this: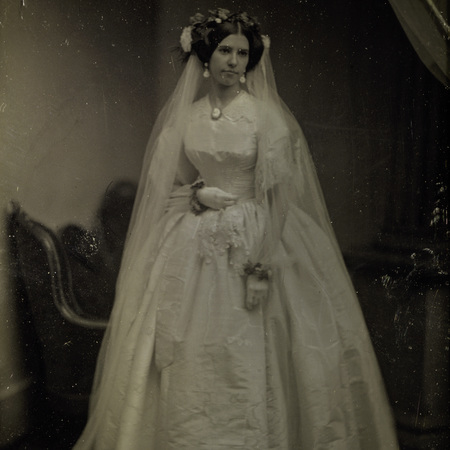 When in actual fact after a quick Google search, I realised that I could have a beautiful dress such as this
Stella York beauty for my big day
All I can say is thank goodness for Kate Middleton rocking a lacy, sleeved number on her big day, meaning that the only way isn't strapless after all.
The only downside is that that perfect dress often don't have the perfect price tag. Or in fact any price tag. Hmm, must mean it's expensive! However at least I've got an idea in mind and I know that my perfect dress is out there somewhere.
Jane Shackleton is now getting married in 16 March 2015. Read about her wedding planning in Bridal Bible every week on Handbag.com
ALTERNATIVE WEDDING DRESSES FOR MODERN BRIDES
MILLIE MACKINTOSH'S VINTAGE LACE ALICE TEMPERLEY GOWN
HOW TO DECIDE WHERE TO HAVE YOUR WEDDING