The EMAs got under way last night and we were all just waiting to see what
Miley Cyrus
was going to do.
Well, unsurprisingly she gave us a few things to talk about.
Firstly there was her outfit - a Tupac and Biggie 'Stop The Violence' dress. You have to see it to believe it.
Then there was her oh-so-revealing leotard that she changed into to accept her award for best Video, for
Wrecking Ball
.
That wasn't all. Miley also lit up a suspicious looking roll-up cigarette when she was handed her award.
How wild of you Miley..yawn.
Katy Perry
added fuel to the fire with her Twitter conversation with Miley before the ceremony.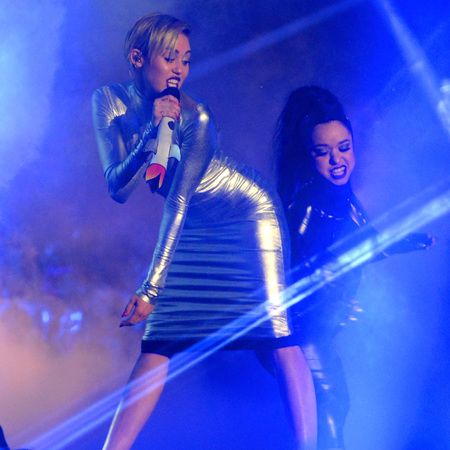 The joked about a special "#afterparty" to make the most of their Amsterdam locale.
But it wasn't just Miley setting tongues wagging.
Iggy Azalea
left us all feeling a little blinded after a serious wardrobe malfunction.
She was readjusting her skirt, with sky high slits, and showed everyone more than she bargained for.
However, the rapper then took to Twitter to address the photo and even Instagrammed the snap.
She said, "Lol! That's my ass from the front not my pussy!!!! Bahahaha! I glued my panties to my pussy before I went out I'm not that stupid."
Take a look and judge for yourself...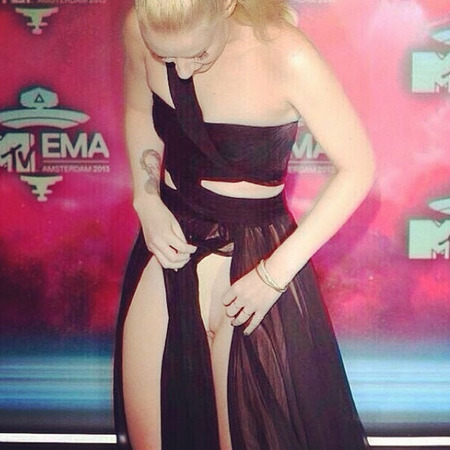 Robin Thicke
surprised no one with his scantily clad lady dancers, much like Miley and
her little people.
MILEY CYRUS AS A VALENTINES CHRISTMAS ELF
IS SELENA GOMEZ "ANTI-FEMINIST"?
MORE CELEB GOSSIP