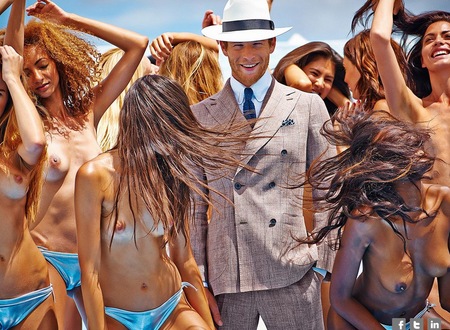 A suit company has taken the old adage 'sex sells' to new levels with an
outrageous advertising campaign
featuring men in suits at a naked women-only pool party.
Dutch company
Suitsupply
had their previously raunchy 2010 ad campaign (below) banned from
Facebook
for being too much.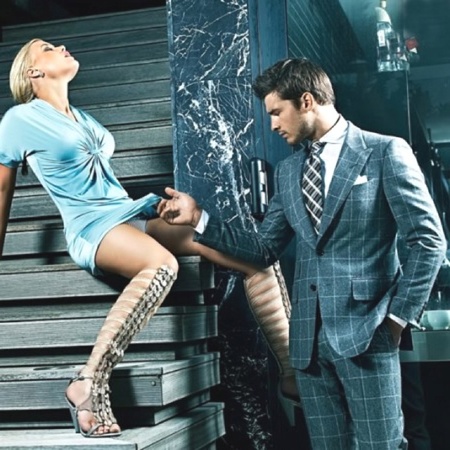 But now they're back with their
Spring Summer 2014 campaign
and it seems the company have found a theme and they're sticking to it.
From the company that brought you the 'it's ok to look up a girl's skirt if you're in a fly suit' advert - we give you 'guy in suit staring at boobs in a
water fight':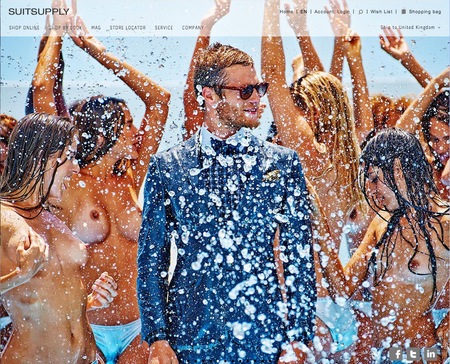 We never want to overuse the phrase 'in this day and age' for fear it will lose its gravitas, but feel these adverts warrant us busting it out.
Understandably the adverts haven't
impressed on social media
, with people taking to
Twitter
and Facebook to complain:
Men: bravo, you look good in suits. Women: take your tops off, that's all you're good for. Outrageous advertising http://t.co/8k3jWXgGcP

— Serena Brett (@SirWeena) February 21, 2014
What's a shame is that we actually like the site and the suits - so why resort to these cheap and outdated tactics?
A sentiment echoed by
men on Facebook
with one person commenting on the company's profile, 'Suitsupply is a great and trendsetting brand relying on halfnaked women to validate their models' appearance? Pathetic..'
While another wrote, 'Too bad a company like suitsupply don't feel comfortable with thier own
summer collection
so they have to fill the promotion
pictures with naked women.'
Well said boys.
Thoughts? Tweet us
@handbagcom
5 sexist adverts you won't believe were made
THE BEST CELEB BOOB POLL NO ONE WANTED
LITTLE THINGS THAT MADE US PROUD TO BE WOMEN IN 2013
MORE LIFE FEATURES