If you're a girl (or boy) of a certain age, you will have spent the last 10 years "trying to make fetch happen," and by that we mean endlessly spouting
Mean Girls quotes.
So, in honour of the 10 year anniversary - for which Tina Fey has ruled out a reunion movie (thank goodness) - we've come up with the ultimate
Mean Girls
week.
Monday: Go on an all carb diet
Make like Regina George and prepare for summer with 'Caltine Bars,' bread, biscuits. You name it, this is
Carb
Monday.
We're hoping that catches on.
Tuesday: Do the Mean Girls workout
To make up for yesterday, stick on the DVD and make sure you can still shop in 135.
this may be the best thing i've seen in a while...The Mean Girls workout pic.twitter.com/79mA51qUYB

— Maggie P (@magpie_1989) May 6, 2013
Wednesday: Wear Pink
Well, because it's Wednesday and those are the rules.
Thursday: Pronounce your name a bit wrong
If your name is Amy spend the day telling people "it's Ameee" and if you're name's Katie, well congratulations, you win at this game.
Friday: Have a party
Now, this can be a ridiculously early
Halloween party with dress code
providing an excellent test of guests' attitudes, or you can just invite someone you like round to be sick on them.
Saturday: Make up a word
Spend the day using your invented word - note 'fetch' didn't happen, so you'll have to come up with something better.
Grool was also not a winner...ideas on a postcard.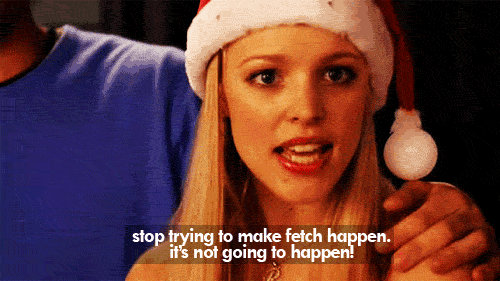 Sunday: Wear army pants and flip flops
We've put this on
Sunday
so you don't actually have to leave the house.
This is wash day,
gardening day
, life admin day - why not do it in a classic Cady outfit? Alternatively try to find a way to store secrets in your hair.
Anymore suggestions are more than welcome, we imagine we could live like a real life
Mean Girls
quote for at least a month.
Tweet us your ideas
@handbagcom
INTERN READS SCRIPT OF MEAN GIRLS IN 30 MINUTES
THE BEST CLASSIC TOWIE QUOTES
MORE TV AND FILM FUNNIES