Anyone who was alive in the past 20 years will have been deeply affected by
Friends
, even if that only means having a never ending supply of
hilarious quotes
for
every
scenario.
So, relive the magic for the 7000th time with these easy to follow ideas for celebrating the anniversary of its final ever episode.
Move your sofa
Remember the days when the word "pivot' wasn't funny...yeah us neither. Moving furniture has never been so amusing.
Wear leather pants
Bang on trend, as Friends has proven to be in many ways.
Try to avoid anything that will turn into a paste underneath your leather trousers.
Apologise by sitting in a box
Done something wrong? Need an apology that's three fold? We've got it.
Try to quit the gym
If you fancy making a homage to
Friends
, quit your
gym
in person...or wimp out like us and cancel your direct debit.
Wear blue lipstick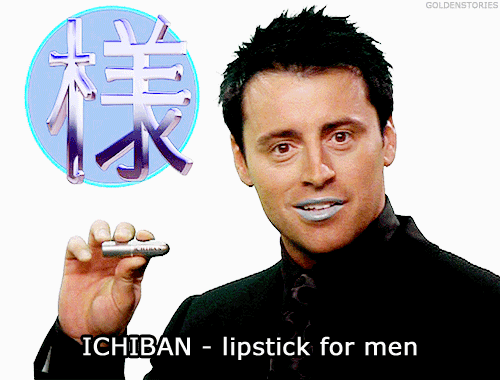 Or better yet find a willing man to put it on.
Write a song about your friends
Rhyming optional.
Test your mate's Unagi
It's a scary world out there and self defence is important. It's time to
join a class
, and then jump out of doorways at your friends. DANGER!
Run like no one is watching
It's time to
get bikini ready
- do it Phoebe style.
Wear all your flatmate's clothes
Could you be wearing anymore clothes?
Anymore suggestions are more than welcome, we could relive Friends forever!
Tweet us your favourite moment
@handbagcom
MAKE FRIENDS YOUR UNLIKELY FASHION INSPIRATION
INTERN READS SCRIPT OF MEAN GIRLS IN 30 MINUTES
MORE TV AND FILM FUNNIES