Want to cut down on your wedding costs (we all know the budget is for the wedding dress) but not sure how?
A great way to start is doing your own wedding cake. Before you start scoffing at how time-consuming it'll be, don't worry.
This naked wedding cake decorating tutorial, by baker extraordinaire
Lily Vanilli
for
Pinterest UK
, couldn't be easier. Seriously, it took us 20 minutes.
Follow these five simple steps for the wedding cake of your dreams (for more cake porn, check out
Lily Vanilli's Pinterest page
).
The cake ingredients
This is just a tutorial to
decorate the cake
, not bake it. So beforehand, bake some cake tiers in different sizes, and as many as you'd like (don't go crazy though).
We recommend this
pear and blackberry sponge
. Yum.
You will also
need frosting of your choice
as well as a choice of flowers and fruit to decorate the cake. Toolswise, you will need: a carving knife, an icing knife, a turntable, and a piping bag with a round nozzle and flower nozzle.
Levelling the cake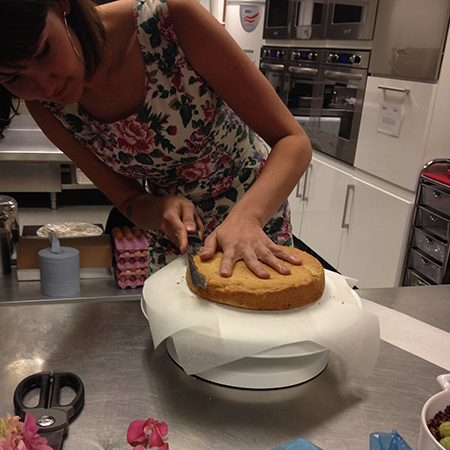 To make stacking up the tiers super easy, you need to level them first so they're all flat. To do this, find the lowest part at the top of the cake, insert your carving knife and start slicking through, spinning the turntable as you go. Repeat for each layer.
Stacking the tiers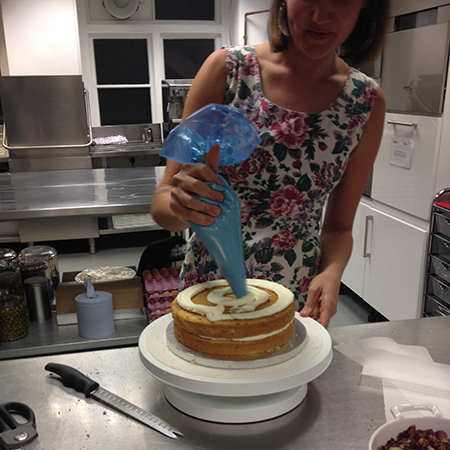 To stack up the tiers, start off with placing a blob of icing on your plate, so the
bottom layer of cake
sticks to it. Place the layer onto it by pressing firmly, then cover that with icing, using the piping bag with a round nozzle in round motions. Flatten it using the icing knife. Then stack your next layer by holding it down firmly. Repeat the process.
Icing the cake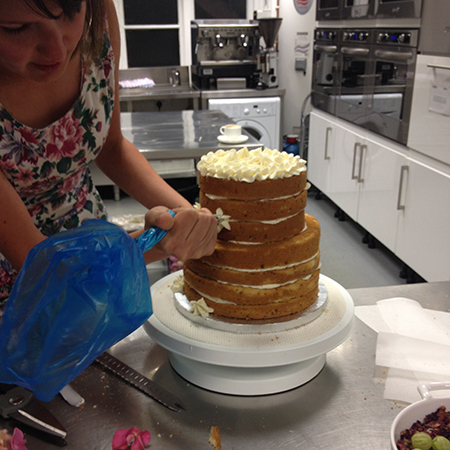 Once you're done stacking your layers, it's time to ice the cake. Switch nozzles, so that you're using the flower nozzle. This makes the icing look daintier. Cover the top of the cake in it, and add a few blobs of icing around the cake so
you can stick flowers to them
.
Decorating the cake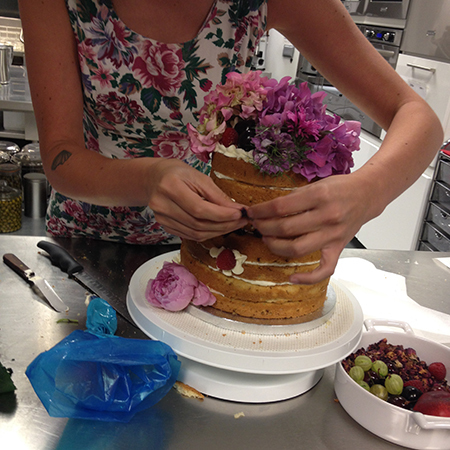 Now the fun part: decorating. It's completely up to you how you want to do it, and what colours you pick. Lily chose some
hydrangeas for the top of the cake
, and a mixture of smaller, wild flowers along the sides, plus some raspberries and peach slices.
All you need to do is stick the stems in the sponge to make sure they hold. You can also use icing to help them stick.
Eat the cake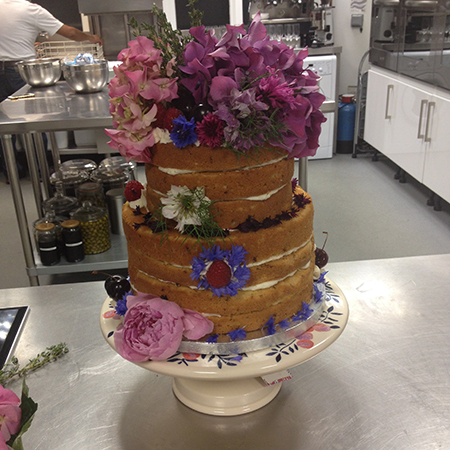 We know, we know, it's almost too pretty to eat. But well, you wouldn't want it to go to waste either. Just make sure you take plenty of pictures beforehand.
Fancy some more baking tips (and cake)? You can catch the lady herself at the
Cake and Bake
show in October.
Tweet us your creations
@handbagcom
MASTERCHEF RECIPE: STACKED PEAR & BLACKBERRY CAKE
PEGGY PORSCHEN'S GLORIOUS VICTORIA CAKE RECIPE
MORE RECIPES