We sat down with
Katy Perry
to talk all things Royal Revolution and of course just what rattles around
the superstar's Chanel backpack.
The
Roar
singer talked us through her new fragrance and let us in on a few of those weird little quirks that make her
the type of woman that totally pulls off green hair
and an LED stage dress.
What do you ALWAYS carry with you?
"We have these [Royal Revolution] in all different sizes. We have a smaller one (15ml), it's so sweet I love it. It's adorable, so you can pop it in your purse you know, in that little side pocket."
Smelling good
may be a priority but it's not her only one.
"Other than that I always have headphones because I'm always listening to music."
Of course.
"I also always have a small hairbrush, Orbie
dry texturising spray
, oh and
green tea
."
How do you apply your perfume?
"I like to apply a big spray at the beginning of the day and walk through it, I never really apply it on.
I put it in my hair too!
Sometimes if you put it directly on your skin it's a bit too intense - any fragrance - but if i'm out all day and can't go home then it's nice to have a little go-to."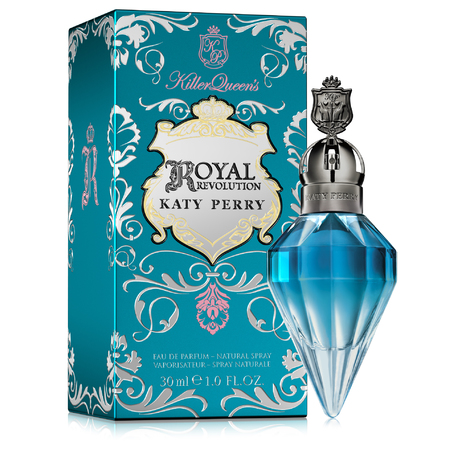 What's the most unusual thing we'd find in there?
"I have rose quartz a crystal in my purse at all times, to make sure I attract the right kind of love."
After
her troubled love life
we're rooting for the power of the crystal.
She is the first to admit that as famous as she is,
she still has to go through all the personal shit everyone else does.
Your strangest handbag habit?
"I
have
to have lotion, I'm one of those girls, I love to wash my hands but if there's no lotion I won't wash my hands - Is that weird?
I just can't have
dry hands
, I don't want to feel like a dinosaur all day!
I'd rather have dirty hands than dry hands - That's weird."
A little bit...
Celebrity beauty product secrets
Killer Queen's Royal Revolution will be available nationwide from July.
KATY PERRY: "SOMETIMES YOU HAVE TO GO THROUGH ALL THIS SH*T"
#HANDBAGCONFESSIONS: PHOEBE LETTICE
MORE FASHION NEWS AND INTERVIEWS