Property guru turned craft queen
Kirstie Allsopp
believes getting crafty around the house is good for her mental health, not to mention downright pretty.
She fills us in on
the best thing she's ever made
, why she secretly loves
Louis Vuitton handbags
and
her new collab
with Hobbycraft.
Cup of tea with Kirstie Allsopp
Can you remember the first thing you ever DIY'd?
"I think it was when I
bought my first flat
, I was 21 and I did a lot to that, fiddling around. One of the first things I did was to take some stretchy wire, a couple of hooks, a piece of fabric, sewed it and made a half net for my windows so that it didn't obscure the light."
So, you started off practical and did the fun stuff later?
"I'm still probably more focused
on the practical.
I always like to choose something which is going to end up practical and decorative, rather than decorative for decoration's sake."
Is that why your new Hobbycraft kits have got things like candle making?
"Yes, you need always to be involved with something you enjoy yourself. So the pinny kits, for example, I'm a pinny freak because I always wear dresses. It's not something that happened constructively – I just got further and further away from jeans. If I'm going to make some supper,
you've got to have a pinny
, because otherwise, you're just covered."
Can you think of your favourite thing that you've made yourself?
"I think funnily enough the best thing I ever made are the glasses I made on the pilot for the first
Homemade Home
. I just had my baby and I was terrified of the fire and molten glass – the whole thing was incredibly scary. I've still got all 5 glasses and that's my proudest moment because I really burnt myself."
Do you craft anything like jewellery or fashiony?
"No funnily enough I tend not to. My interest in craft began from an early age. The things that I make tend to be either things that I do with the children or that are
fun gifts for people.
For me, crafting is about the mental release, not
focusing on the laptop,
not focusing on something that I've got to achieve. It's a process."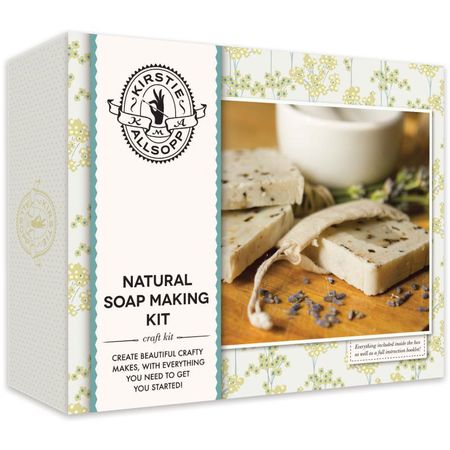 What's the designer of the handbag you're carrying?
"It's the most extraordinary handbag I've ever bought. I have quite a few bags, and I buy one every 8 months or so and I'm quite careful with them. I was with my sister and we were walking along New Bond Street and ended up in
Louis Vuitton
. I never thought Louis Vuitton was a particularly 'me' kind of shop, but there was this navy blue handbag, with gold hardware with the perfect straps."
Kirstie Allsopp's range of kits include making candles, soaps, bath bombs, patchwork aprons, and fabric pin cushions, all ranging from £10 - £30. Available at www.hobbycraft.co.uk.
WHAT'S IN MY MAKEUP BAG: KIRSTIE ALLSOPP'S BEAUTY ESSENTIALS
DIY FASHION FIX: NEED TO KNOW JEANS DYING TIPS
MORE DIY HOW-TOS
LOTS MORE ON HANDBAG.COM