You may not know Jetta yet, but you will soon. The Liverpudlian singer has just released her debut single,
Crescendo
, an upbeat mix of soul, pop and rock & roll.
She has performed backup for the likes of
Paloma Faith
and Cee Lo Green and is now ready to take the limelight, produced by
Pharrell no less
.
So what does a
future pop star
carry in her handbag? Jetta shares her secrets exclusively with us.
What's your favourite handbag?
"I carry a lot of things with me in my day to day life, so I have a backpack. It's a 'Cabour Amor' - it's my
Mary Poppins bag
– it's got my whole life in it, it's practical and it looks good. I got it at a showroom, I think it's the only one made so that was what drew me to it."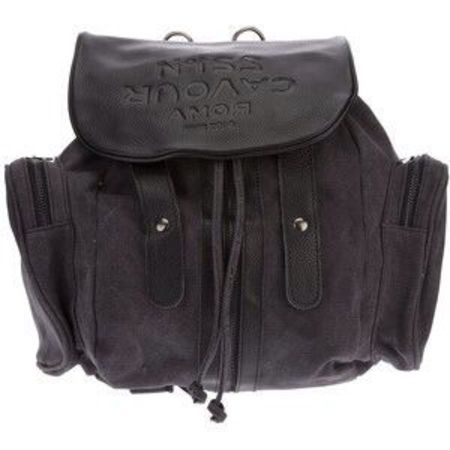 What do you always have in your handbag?
"I always carry Tobasco sauce mini bottles. I have the jalapeno one at the moment - they keep trying to take it away from me
in restaurants
so I have to keep my eye on it. I 100% can't live without music.
My headphones
come everywhere with me. I'm listening to the Pepsi MAX Beats of the
Beautiful Game
album on repeat at the moment. My new track
Crescendo
is on there, alongside some major players -
Kelly Rowland
, Janelle Monáe, Timbaland...to name a few!
What is the best snack you keep hidden in your bag?
"I
love sweets
. I've always got a bag of Haribo Supermix with me, they do the best little bears, I can't get enough of them. I'm actually addicted!"
What are your handbag beauty essentials?
"Morrocan Royal curl control moose, it's the only product I've ever found that doesn't dry my hair out and doesn't make it too oily, I can't go anywhere without it. I also have my MAC black liquid eyeliner, which I do my three dots with. I wear three different types of
MAC lipstick
which I've always got on me. The first one is called 'Cyber', and then I like to put a bit of 'Amplified' on top of that, and then I put a bit of 'Girl About Town' on, and there you have it!"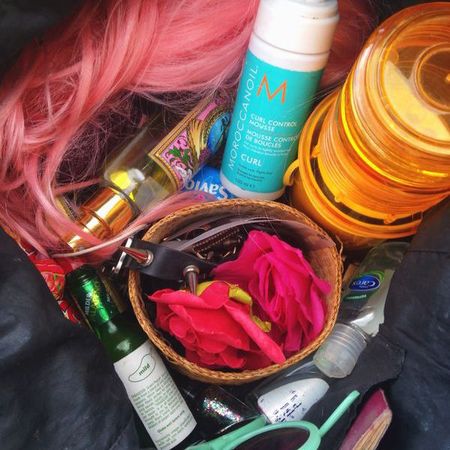 Do you have a handbag story you can share with us?
"I'm always on the go, so I tend to pick up a lot of food on the move,
like a burger
or something. The problem is I often forget that I've eaten half of it and leave the other half is in my bag, so you can obviously imagine what happens next."
What are your travel essentials?
"Well it kind of changes for the summer, because it's
festival season
at the moment. I have my pink wig, which is my alter ego and I take it everywhere with me. I've got my JSP micro light, which is perfect for when I go camping, everyone needs one of those. I also always carry my
vintage sunglasses
that my mum got me as a birthday present."
What is your dream handbag?
"Oh my gosh, I'm so clumsy I can't have a
proper handbag
, I need a
backpack
. If I did have a dream bag it would be a handbag that has a magic button and whenever I wanted something out of it, I would just press the button and it would find it for me. I can never find what I want."
Tweet us your thoughts
@handbagcom
HANDBAG CONFESSIONS: LONDON BEAUTY QUEEN
HANDBAG CONFESSIONS: MILLIE MACKINTOSH
MORE CELEBRITY INTERVIEWS