After nearly two weeks of nipple sucking,
dry humping and motor boating in the Celebrity Big Brother house
, we were more than ready for some PG fun.
And the special charity
Great Sport Relief Bake Off
was just what the doctor ordered.
With comedy musical actor Michael Ball involved there were bound to be some laughs but even we didn't expect them to start an actual fire...well, they burnt the carpet.
"He's won awards for playing Sweeney Todd, so he's used to unusual bakes." #GBBOSportRelief

— Lucia... (@River_Shadow) January 15, 2014
Also throwing their wooden spoons in the ring was cyclist
Victoria Pendleton
, who impressed everyone with her baking skills - which included a spun sugar bike!
Absolutely LOVED @v_pendleton on #GBBOSportRelief You definitely should have won star baker! Your last line had me in stitches. X

— Maddy (@maddy_street) January 15, 2014
Joining her was perennial TV laugher Jamelia, who spent the whole episode guffawing her way around the tent, and broadcaster and eventual star baker, Emma Freud.
Trust us, from doughnuts that "look like onion rings," to Michael balls Showstopper, you won't regret switching the
S&M of CBB
to a nice
tray bake
and a cup of tea.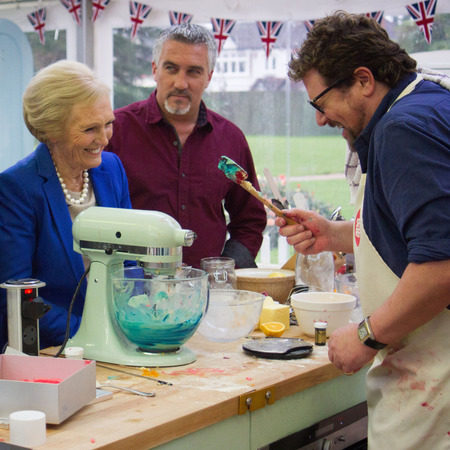 Did you watch, did you snort your tea out of your nose with laughter? ...Just us then. Tweet us
@handbagcom
ARE LEE AND JASMINE TURNING PEOPLE OFF CBB?
GBBO RECIPE: CHOCOLATE TRAY BAKE
MORE TV NEWS AND REVIEWS