Anne Hathaway "no regrets" from split
Get Smart star Anne Hathaway has insisted she has "no regrets" about splitting from her boyfriend Raffaello Follieri.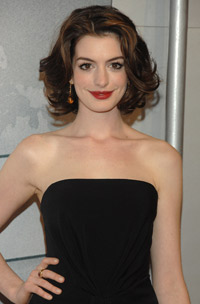 Actress Anne Hathaway has confessed her split from Italian Raffaello Follieri was for the best. The Get Smart star ended the relationship with Follieri just before his arrest for suspected unscrupulous business dealings. "The worst thing that happens to you can be the best thing for you, if you don't let it get the best of you," Showbiz Spy quote the star saying. "I've always wanted a family. I'm not one of those people who says 'What's the point of marriage?' I'd like to find someone you can be yourself around, who makes you laugh, who challenges you in a good way, and where you just speak off each other. My parents have been married more than 25 years, with all the glory and all the pain you can imagine, but they've stayed together. I want a strong marriage like that."