50 Cent praises Robert De Niro
Rapper 50 Cent has said his Righteous Kill co-star Robert De Niro is an impressive marksman.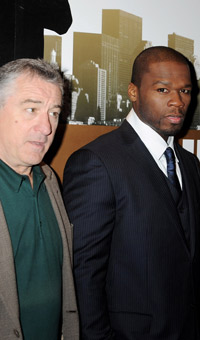 50 Cent has praised his Righteous Kill co-star Robert De Niro's shooting skills. 50, real name Curtis Jackson, was taken to shoot handguns while making the film by the Oscar winner and liked what he saw. "We went a couple of times together," 50 tells People magazine. "He was a much better shot than I thought he would be. I was impressed." The rapper also explained how felt about sharing the screen with acting legends De Niro and co-star Al Pacino. "I was comfortable, because I was really well-prepared," he explained. "I had worked long and hard with an acting coach specifically for that role."