It was
the CCTV footage that shocked the world - Beyoncé's sister Solange attacking her husband JayZ
after the Met Gala 2014.
Now, finally after days of questioning and even a hashtag, 'what did JayZ say to Solange?' We're getting some answers.
The couple have released a statement, unusual for the fiercely private pair, addressing
the incident.
The statement reads: "As a result of the public release of the elevator security footage from Monday, May 5th, there has been a great deal of speculation about what triggered the unfortunate incident.
But the most important thing is that our family has worked through it.
Jay and Solange each assume their share of responsibility for what has occurred.

They both acknowledge their role in this private matter that has played out in the public.

They both have apologised to each other and we have moved forward as a united family.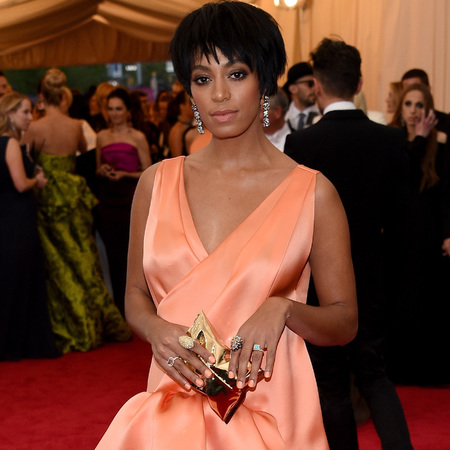 It continues to address speculation that Solange's outburst was down to a few too many champagne cocktails at the Gala.
It states, "The reports of Solange being intoxicated or displaying erratic behaviour throughout that evening are simply false
At the end of the day families have problems and we're no different.
We love each other and above all we are family. We've put this behind us and hope everyone else will do the same."
Sadly, this still doesn't tell us exactly what the cause of the fight was so we will be left to wonder,
was it down to Jay's refusal to market Solange as an artist
, the rapper-producer's
plans to party with Rihanna
, or are
there serious marriage problems
they're trying to cover up?
Best hair and makeup from the Met Gala 2014
WHY DID SOLANGE ATTACK JAY Z?
SOLANGE FIGHT WAS OVER A HANDBAG
MORE CELEBRITY DRAMA