With rising damp sitting like a ticking time bomb in the Queen Vic basement, the Carter family need a way to come up with some serious cash, quick.
Hints have been made about Mick, Shirley and Tina's father Stan before, and it's clear that although he may have the funds, they will not be asking him for the money.
Why are they so dead set against his involvement? Shirley is particularly adamant, but it becomes obvious that she's not the only one with a difficult relationship with him.
Danny Dyer
has described the relationship between them as "mad" - ever the word-smith.
So, how will they get the money?
Grim faced Shirley has been spotted with a plastic bag of cash, paying a visit to a North London flat - a dodgy deal is definitely on the cards.
Meanwhile, Mick and Linda's other son Lee is set to return from his stint in the army at some point.
With family ties between her and Johnny already strained since his gay revelations, it is unlikely to be a smooth transition back into the fold for the army man.
Add that to the arrival of Stan and things are about to get messy for the newest family in
the Square.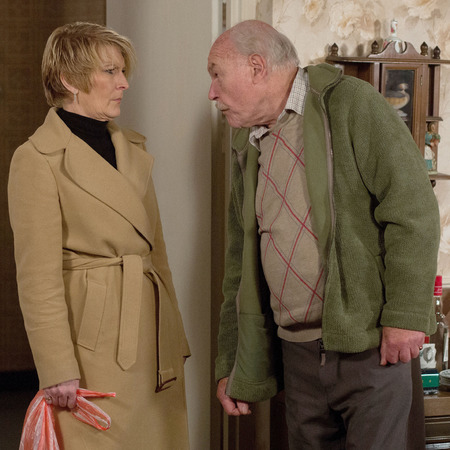 EASTENDERS SPOILERS: KAT TO LOSE HER BABIES FOR REAL?
DON'T MESS WITH DANNY DYER. JUST DON'T.
MORE SOAP AND TV GOSSIP