Cara Delevingne
is one of the young, hip and happening celeb crowd who like to party as hard. The likes of her,
Suki Waterhouse
and that Rihanna make us feel like veritable Grandmas.
So how do they go out so 'large' and still
have the energy to work
and
look flawless?
Well it is time to feel better anyone over 25.
Vogue
have called out Cara for falling asleep not once, but twice, instead of having an interview with them. One of the occasions was after a
heavy night out with Lily Allen.
Kids these days, they just can't
handle their liquor.
Vogue
writer Plum Sykes penned, "Dear reader, to misquote Oscar Wilde, can I say that to oversleep once for a
Vogue interview
may be regarded as a misfortune, but to oversleep twice looks like carelessness?"
A former
Vogue
cover model, Cara was not amused and hit back at the fashion magazine
on Twitter: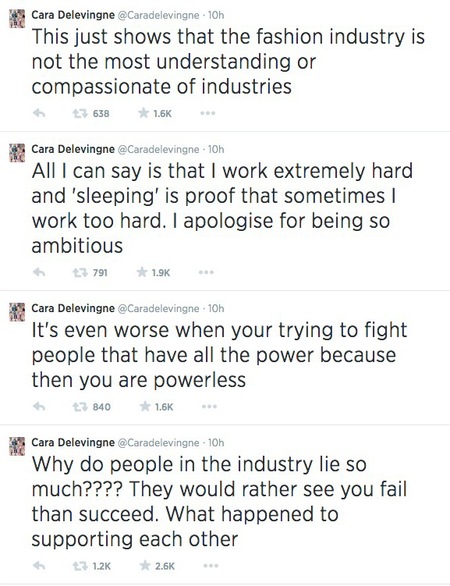 Others then came forward to say, actually, Cara falls asleep all the time.
Mulberry
photographer Tim Walker said, "Every shoot I've done with her, she's fallen asleep...She slept for seven hours on
one Mulberry shoot."
No one told us if you work hard, you're allowed a little nap on the job. Hello desk sleep our old friend…zzzZZZZ
If you're awake, send us a tweet
@handbagcom
Best Mulberry handbags for SS15
CARA DELEVINGNE JUST FLASHED YOU
LIE-INS CAN STAVE OFF CRAVINGS?
MORE FASHION NEWS