Benedict Cumberbatch
gave his fellow Etonian alum, David Cameron an almighty diss when he failed to turn up to his 'Cool Britania'
Party
.
The actor was amongst a host of top UK talent on the invite list who decided to give the Downing Street party a miss.
He is currently
filming Black Mass, proving he's hotter than Johnny Depp on set
, so it could have been simply scheduling problems.
However, Ben has a history of
sharing his political opinions
, ones that often don't align with the Tory party.
He took the opportunity to share his voice with the paparazzi last summer: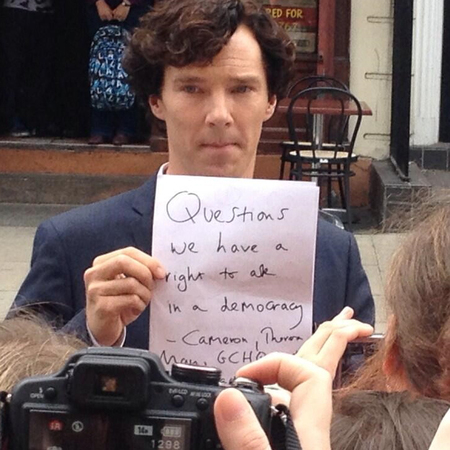 He has also always said his love of Eton came from the attention they gave arts and drama, something that has taken dramatic cuts in recent years.
So, instead of
Sherlock Holmes
, who did Dave get round his dinner table?
Bruce Forsyth, Michael McIntyre and Cilla Black were all in attendance.
Would you go to a party at number 10? Tweet us
@handbagcom
WHO IS BENEDICT CUMBERBATCH'S SECRET GIRLFRIEND?
PRINCE WILLIAM HAD AN EPIC FASHION PARTY
MORE CELEBRITY NEWS